The term "jazz singer" eludes definition almost as much as the term "jazz". There is a school of thought which states that the very phrase "jazz singer" is a contradiction in terms, and that a true jazz singer would never sing lyrics; thus, the only singers we know are simply jazz-influenced. There are others who drop the term on any vocalist who sings standards, even if they made their name singing pop and rock. However, for many jazz fans, improvisation is the key, either through scat or melodic transformation (creating new melodies while continuing to sing lyrics). The latter category brings in Billie Holiday, of course, but also Frank Sinatra, Tony Bennett, Maxine Sullivan, Jo Stafford, Jeri Southern, Ray Charles, Peggy Lee and the four vocalists whose albums are reviewed in this essay. What these vocalists have in common is their dedication to lyrics, ranging all the way from simple love ditties to complex poetic structures.
The title track of Michelle Lordi's new self-released CD may be the quintessential simple love song. "Dream a Little D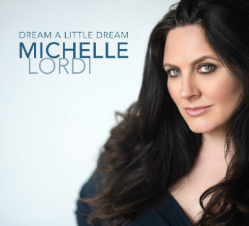 ream" paints an idyllic scene with its bright shining stars, night breezes, singing birds, and the singer's wish to be part of her lover's dreams. Lordi finds the latent sensuality in the words, and uses small changes in the melody and subtle shifts in the song's phrasing to emphasize the important lyrics. Wisely, she avoids the temptation to make more of these words than they can carry, yet she still makes the most of what's there. I've heard her sing Irving Berlin's "They Say It's Wonderful" on several occasions, and I love how her slow, passionate reading brings out the yearning emotions of the song. For the most part, Lordi's variations on the original melody are small and isolated—a talent she shares with Southern and Stafford—but close listening reveals how well she tailors her adapted melodies to the message of the lyrics. On medium and up-tempo arrangements, she floats her lines over the ground beat to create an understated but undeniable swing. While this EP contains only 7 songs, Lordi creates a unique world out of each piece, while never losing the vocal persona that unites the entire album. Lordi hails from Philadelphia, and most of the musicians perform with her at a weekly jam session. She credits tenor saxophonist Larry McKenna and guitarist Sonny Troy as her mentors, and both are featured soloists on the album ("I Hear Music" and "Thou Swell" feature the two soloists back-to-back) and the remaining musicians coalesce into a fine swing combo. Trumpeter Jay Webb and trombonist John Swana fill out the horn section, and the rhythm section includes pianist Mike Frank, bassist Matthew Parrish and drummer Bill Avayou.  
Hilary Gardner and pianist Ehud Asherie share a love for old songs, and their exquisite new duet CD, "The Late Set" (Anzic 60) features a program of songs dating from 1918-1960. While these songs were written long before either performer was born, Gardner and Asherie live and breathe this music. To be sure, they have studied old recordings and delved through reams of ancient sheet music, but they have each inter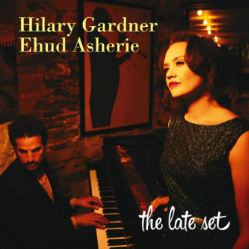 nalized the style and emotions of these songs so that their performances are a natural outpouring of their own personalities. "Shadow Waltz" was the setting for a remarkable Busby Berkeley production number in "Gold Diggers of 1933", and in jazz, it also served as the theme for Nat King Cole's television show, and was a vehicle for Sonny Rollins. However, the Gardner/Asherie seems separate from all of these other versions. Asherie draws in the listener with an opening chorus that only hints at the original melody, then Gardner enters with the verse, employing a rubato rhythm which overlays Asherie's oblique waltz pattern. Like the dark shadows where this lover serenades her sweetheart, the interaction between the two rhythms is something that it sensed more than it is witnessed. Gardner oozes the sexual subtext from "Sweet and Slow" with coy melodic turns and gentle pushes on key words. Lorenz Hart's lyrics are loaded with deep psychological messages, and inexperienced singers usually miss the subtleties, but the Gardner/Asherie version of "A Ship Without a Sail" is a masterpiece, not only for Gardner's introspective reading of the lyric, but also for a recurring musical idea that sets off the title phrase with a miniscule but highly effective rest. Later, the duo performs a delightful version of "Everything I've Got" which includes several alternate (and hilarious) stanzas. "After You've Gone" starts at a leisurely tempo, which allows Gardner to explore the deeper sentiments of the lyric, but after she sings the verse (bless her!) the tempo picks up which gives her the opportunity to toy with the melody, and Asherie the chance to show off his fine stride chops. While I am tempted to annotate every delicate turn of phrase in this superb recital, doing so would rob the listeners the thrill of discovery. Suffice to say that there are many delights contained in this brief but satisfying disc. We are indeed fortunate to have such dedicated curators of the Great American Song Book.
Many singers dream of singing with a large orchestra, but somehow it seems strange to hear the small, intimate voice of Stacey Kent juxtaposed against a bed of strings. Yet, Kent's new CD "I Know I Dream: The Orchestral Sessions" (Okeh 88985462882) works because the arrangements by Tommy Laurence, Jim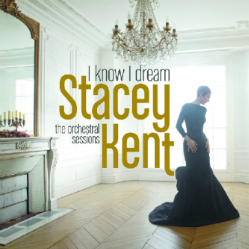 Tomlinson and Jessé Sadoc allow Kent to use the same understated delivery as she does with a small combo. As on her earlier albums, Kent draws from an eclectic range of music, including Brazilian songs from Tom Jobim and Edu Lobo, French chansons from Serge Gainsbourg, and literate originals with lyrics by Nobel Prize-winning author Kazuo Ishiguro. Like Michelle Lordi, Kent's rhythmic and melodic variations are minute and subtle. Even if you can't understand the French lyrics of Gainsbourg's "Les Amours Perdues", you can still appreciate Kent's method of throwing off unimportant words and leaning on important lyrics. A wonderful story emerges from Ishiguro's lyrics to "The Bullet Train", with Kent's immaculate diction and clear tone illuminating every word, and her precise rhythmic sense denoting the recurring syncopated title phrase. Lobo's "To Say Goodbye" (aka "Pra Dizer Adeus") is a heartbreaking ballad, and Kent's performance is a revelation, as she expands her dynamic range to reiterate the desolation of the words. And for a singer who seems very introverted most of the time, Kent's joyous abandon on the Cliff Goldmacher/Jim Tomlinson original "Make it Up" is another pleasant surprise. The album's title track was also written by Goldmacher and Tomlinson, and Kent's earnest delivery here should be enough to place it within the repertoire of other singers. While Kent has recorded many of these songs on earlier albums, the biggest sense of déjà vu from this album comes from someone who is only present in spirit. While I appreciate the complimentary relationship between the orchestral arrangements and Kent's voice, it seems that every bar of these orchestrations sound like lifts of Johnny Mandel charts. I'm not sure if Mandel was offered the date, but considering the final results, he should be acknowledged in the album credits.
As I have written elsewhere in these pages, Stacey Kent's greatest artistic accomplishment may be her performances of the Ishiguro originals. Cheryl Bentyne's newest album, "Re-Arrangements of Shadows" (ArtistShare 157) also explores the lyrics of a composer infrequently covered by jazz artists: Stephen Sondheim. Sondheim has theorized that his music might be too structured to work in a jazz context, but a few brave improvisers have delved into his music and discovered ways to transform it into jazz. Bentyne's CD may be the best jazz treatment these songs have ever received, simply because she is willing to treat them as songs, not as integral parts of Broadway shows. She exhibits a great deal of freedom toward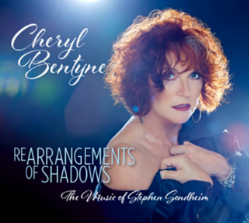 s the music—aided by flexible arrangements—but always remembers to tell the original stories. The opening track, "I Remember", is a song about isolation—the singer, who has voluntarily withdrawn from society, remembers most things in terms of man-made objects—but Bentyne's interpretation changes (along with the background) whenever the subject is from the natural world, like sky, wind or snow. This method underscores the desolation of the singer's self-imposed exile. "Sand", which Sondheim wrote for an unproduced movie, compares the title substance with love, and Bentyne brings a varied interpretation to the song, basically cynical, but occasionally moving to a tender moment before realizing again that love can be painful. "The Ladies Who Lunch" brings in more familiar material, and while the sardonic treatment (with guests Janis Siegel and Tierney Sutton) is fun, it doesn't add much to our knowledge of this song. The multi-tempoed version of "Everybody Says Don't" (with bassist/arranger Kevin Axt and drummer Dave Tull) lets us hear Bentyne swinging with abandon over minimal accompaniment. Even when working with a string quartet and a shifting (non-swinging) background on "Comedy Tonight" and the tender "Move On", Bentyne maintains her warm delivery and malleable rhythmic sense. "Not a Day Goes By" contains a lot of repeated and rhymed words which can be made monotonous by less sensitive vocalists. Bentyne makes these verbal motives intriguing by varying their emphasis and phrasing. I suppose that "Send in the Clowns" is an inevitable part of any Sondheim collection, but Mark Kibble's inventive a cappella 4/4 arrangement gives this song a completely different flavor than any previous recordings. This may be the only spot on Bentyne's album where the meaning of the song gets lost in the arrangement, but the fresh approach excuses the departure. "Re-Arrangements of Shadows" is a stunning album, and certainly the best solo album of Cheryl Bentyne's career.