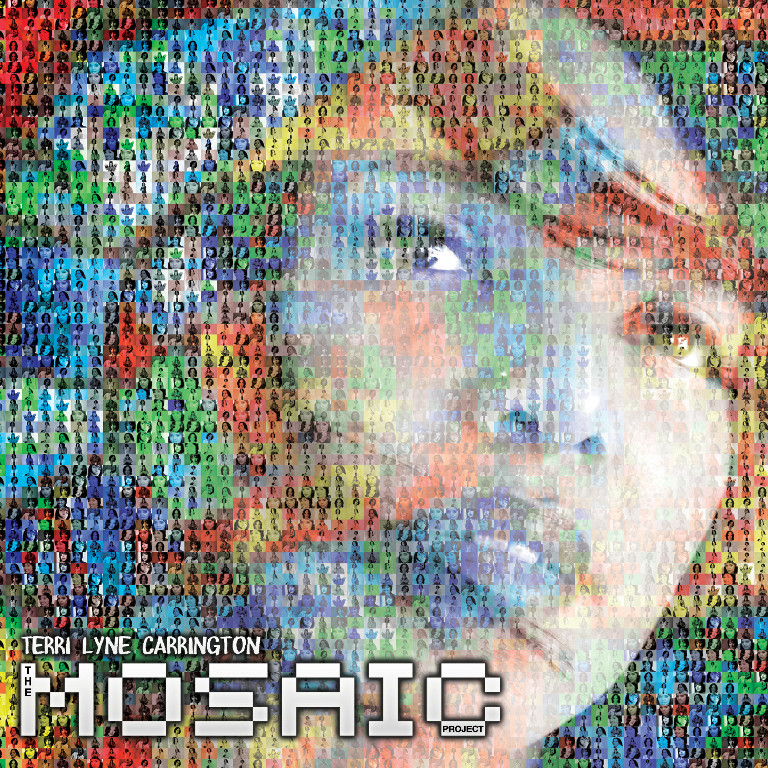 The older I get, the more I believe that there are only two kinds of music—good and bad. Terri Lyne Carrington's latest CD, "The Mosiac Project" requires this kind of mindset, for the styles range between jazz, spirituals, funk and rap but top-notch musicianship is the constant factor. And just as Carrington breaks down the barriers between styles, she also demolishes the stereotypes about gender, as all of the musicians are female. Thankfully, women jazz musicians are not the rarity they used to be, and while Carrington had plenty of choices, she picked a great group of musicians for this album.
There are several vocalists, including Carrington herself (on the self-penned tribute to Teena Marie, "Magic and Music"), plus Nona Hendryx, Gretchen Parlato, Dianne Reeves, Cassandra Wilson, Esperanza Spalding, Dee Dee Bridgewater, Carmen Lundy and Shea Rose. The vocals are spread throughout the album with Carrington appearing between Parlato and Reeves, and the rest appearing in the order above. This creates an interesting arc with the quality of the voices moving from the light-voices of Hendryx and Parlato to the darker voices of Reeves and Wilson and back again with Hendryx making a ghost-like appearance on the final track. (That final cut is a rap variation on the opening track, thus neatly tying the entire album together.)
The instrumentalists include saxophonist Tineke Postma, clarinetist Anat Cohen, trumpeter Ingrid Jensen, and pianists Geri Allen, Helen Sung and Patrice Rushen. Although the Dutch saxophonist Postma has recorded a few CDs over the last few years, she may well be a new voice to American listeners. She takes all of the alto and soprano sax solos on the album, and her melodic approach and rich tone reminds me of Jane Ira Bloom. Cohen does not get much solo space on the CD, but she makes her presence known with her ensemble performances on both clarinet and bass clarinet. Jensen continues to develop her own unique voice, and her use of live electronics enhances her already distinctive trumpet style. There is a plethora of keyboards on this disc, with many tracks having more than one of the pianists present; however, all three appear on "The Mosaic Triad" with Allen, Sung and Rushen (in that order) each getting featured spots.
In the press release for the CD, Carrington says that "everything about this recording is about making a larger picture out of many various elements". The music on this CD is a kind of continuum where elements of various styles coexist without infringing on one another. Thus, in the aptly titled opening track, "Transformation", the jazz trumpet of Ingrid Jensen fits perfectly over a light funk drumbeat and Linda Taylor's wah-wah guitar, and it all compliments the vocals of Nona Hendryx. On the next cut, an extended introduction that sounds like 70s R&B leads into Gretchen Parlato's rendition of Irving Berlin's "I Got Lost In His Arms". That cut leads directly into Parlato's a cappella intro to the Beatles' "Michelle", but after Parlato's theme statement, the arrangement turns into a progressive jazz number featuring extended solos by Jensen, Postma and Allen. The entire album has this same kind of ebb and flow, with the musical landscape offering constant surprises to the attentive listener.
The features for Dianne Reeves (the dramatic "Echo" which opens with sampled excerpts of Angela Davis and composer Bernice Reagon Johnson), Cassandra Wilson (Al Green's sultry "Simply Beautiful") and Dee Dee Bridgewater (the Hendryx/Carrington collaboration "Soul Talk") each display the considerable strengths of their respective vocalists. Of Spalding's two vocal features, Geri Allen's "Unconditional Love" (with the exquisite pairing of Postma's soprano sax with Spalding's wordless vocal) works better than Spalding's original "Crayola" where the lyrics are nearly impossible to decipher. I'm rather disturbed by the post-production distortion of Lundy's voice on "Show Me A Sign". While it was probably done to create a bridge to Shea Rose's rap on the next track, it seems unfair to Lundy, who never seems to get enough recording opportunities as it is. About midway through, the album shifts focus to instrumentals, and Carrington's three originals show evidence of an inventive composer at work.
Unfortunately, all of this wonderful music appears in a package that looks very slick, but lacks substance. There are no liner notes or lyrics, and the personnel listing is confusing at best. For example, it takes a little deductive reasoning to figure out that Esperanza Spalding plays bass on all but one of the tracks, but only sings on two. Further, there are no soloist credits or distinctions as to which instruments a musician plays on any given track. I'm grateful to Carrington and Concord Records for providing the information relayed above, but the average listener may be puzzled over this poorly conceived listing.
While the music on "The Mosaic Project" is quite challenging, it rewards careful listening and it is a splendid showcase for Carrington and her very talented musical associates. I hope Carrington can re-assemble this group for a concert tour—it would be very exciting to hear this music develop in live performances.