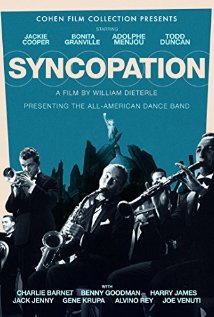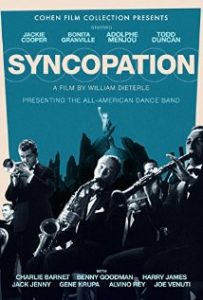 Jazz and film are America's two greatest contributions to the arts. Yet Hollywood never seems to get things right when jazz is the subject of a feature film. The strongly negative reactions from musicians and educators to the recent Oscar-winning film "Whiplash" shows that Hollywood is still unable to accurately portray the essence of jazz (Significantly, the one feature film that did get it right, "Round Midnight", was directed by a Frenchman, Bertrand Tavernier). The Cohen Film Collection has restored and reissued the 1942 feature, "Syncopation", and while it is not the classic that the trailer claims, it does get a few things right amidst several factual errors.
"Syncopation" tells of several generations of jazz trumpeters between 1906 and 1942. The earliest of these is Reggie Tearbone, a gifted black youngster from New Orleans, who has little interest in reading music. Young Reggie's mother, Ella (Jessica Grayson) is the maid for architect George Lattimer (Adolphe Menjou), and through Ella, Reggie knows Lattimer's daughter, Kit. Kit also has an ear for the blues, and at several key moments, she plays a sensitive blues at the piano which gradually accelerates into boogie-woogie. In a painfully obvious analogy to jazz history, George, Kit and Ella move from New Orleans to Chicago in search of better opportunities, and years later, Reggie (now called Rex and played by Todd Duncan) follows north to continue his career. Once Kit grows up (now played by Bonita Granville), she meets trumpeter Johnny Schumacher (Jackie Cooper) who is both homeless and looking for his first big break as a jazz musician. Kit gets Johnny to visit Rex, Rex lets Johnny sit in, and soon Johnny is headlining with his own band. After Rex leaves the stuffy orchestra of Ted Browning (Leith Stevens), Johnny takes his place, in an effort to create a steady income for his new wife, Kit. Eventually, Johnny quits the band while on the road, effectively deserting Kit in the process, but the two are reunited in New York City, where Johnny's new band becomes a sensation due to the intervention of another child who longs to be a trumpeter. The film ends with an all-star jam session including Benny Goodman, Harry James, Joe Venuti, Jack Jenney, Charlie Barnet and Gene Krupa. Although these musicians are prominently listed in the credits (all winners of a jazz poll in—of all places—"The Saturday Evening Post"), the final jam is their only appearance in the film, and none of them have spoken lines or have any interaction with the rest of the cast. Connie Boswell fares a little better in that respect, appearing as herself and singing a song with Johnny's band in a New York tavern.
It's easy to nitpick a film like this: no one explains how the children Reggie and Kit learned to play blues while still in elementary school, why the record Kit plays in 1918 sounds much smoother than the Original Dixieland Jazz Band—basically the only jazz on record at the time; why no racism is never addressed; and why the current jazz of the time, big band swing, is not shown at all. However, the film has several enduring qualities: it recognizes blacks as the pioneers of the music; the mentoring of musicians from one generation to the other is portrayed with some degree of accuracy; commercialism is shown as an ongoing temptation which is contrary to the nature of jazz, and best of all, everyone involved seems genuinely interested in the music. Even when faced with the hoary set piece of Chicago gangsters shooting up a nightclub, director William Dieterle makes the best of it, segueing into a wonderful backlit silhouette scene where Kit and Johnny first declare their love for each other. The cast includes Rex Stewart as King Jeffers, who is Reggie's first mentor, and the Hall Johnson Choir plays the congregation of a black church early in the film. "Syncopation" is far from a perfect film, but it stands at least one level above the usual Hollywood jazz features.
Regardless of their reaction to the feature, jazz fans will want to own the DVD of "Syncopation" for its wonderful bonus material. Nine classic jazz shorts are here, including Louis Armstrong's 1932 "Rhapsody in Black and Blue", Bessie Smith's 1929 "St. Louis Blues", the 1934 "Cab Calloway's Hi-De-Ho" 1939's "Artie Shaw's Class in Swing", a 1939 film starring Hoagy Carmichael and the Jack Teagarden Orchestra, and three films featuring Duke Ellington: "Black and Tan" (1929, with Fredi Washington and Arthur Whetsol), "Bundle of Blues" (1933, with Ivie Anderson) and "Symphony in Black" (1934, with Billie Holiday). Seven of these films were produced by Paramount and unlike other video releases, these prints restore the original Paramount logo. The films themselves are UM&M prints sold to TV in the 1950s, but they look and sound infinitely better than any other previous video releases. Some of the ethnic comedy routines are difficult to watch today, but the films offer superb music and intriguing visuals. For example, in "Black and Tan", Washington plays a dancer who performs on stage with Ellington's band despite a heart condition. Washington feigns exhaustion like a third-rate actress, but director Dudley Murphy shows her point-of-view as a prism, achieving the effect with the then-new multiple image optical printer. The club set has a mirrored dance floor, and during Washington's fatal dance, Murphy shoots a sequence from underneath, through the floor! Technologically, this was quite daring for an early sound film, and the actual shot—which basically looks up Washington's dress—probably raised the eyebrows of a few local censors.
"Syncopation" is available on both Blu-Ray and standard DVD, and at around $20, is certainly reasonably-priced. If this disc sells well, perhaps Cohen will be encouraged to produce more jazz DVDs. Only next time, Cohen can leave off the feature—the shorts are much more valuable!