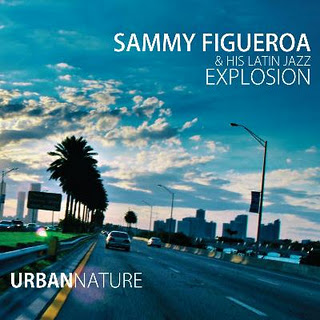 For years he has been heard as the driving percussion force behind many disparate legends in a variety of music genres.  Involved in multiple Grammy-winning projects, and well versed as a multi percussionist in a variety of world rhythms, he is firmly established as a first call recording and touring musician. Yet this is not where Sammy Figueroa will stay. He has stepped away from being a sideman to shine as a leader.  Figueroa's skills, mature savvy and humor are revealed with perfect timing in his new CD, "Urban Nature". While the groove of this recording is Latin; the harmonies are definitely jazz. Figueroa's percussion work throughout the album is both driving and elegant, and the synchronicity of the rhythm section is a continuous joy.
The recording starts off like a cannon with "Gufillo", composed by pianist Silvano Monasterios.  The piano and percussion weave in and out of each other, and tastefully recede for the muted trumpet solo played by Alexander Pope Norris. Figueroa offers an elegant conga solo, and is out cleanly and swiftly. "Urban Nature" reflects the grooves that grow and thrive in the city. It maintains a good pace while staying true to the relaxed groove. Composed by bassist Gabriel Vivas, it includes a fine bass line that Figueroa answers tastefully with his congas. "Latin What?" is a fun composition featuring a conversational trumpet solo by by Norris and a playful answer by guest saxophonist Ed Calle. "Zuliana", a ballad by Monasterios, changes the mood from playful to romantic. It starts out simple and sweet, and features an attractive chord progression.  The dancing Venezuelan rhythms of guest percussionist José Gregorio Hernandez add a whole new flavor at the close of the tune.
"7th Door to Your Left" is a composition by Monasterios in 7/8 that showcases the good groove of Figueroa's percussion. Trumpeter Norris and saxophonist John Michalak contribute fine solos to this piece. The congas and bass strongly support the 7/8 groove while Monesterios' piano travels freely through an expressive solo.  The excellent drum solo by Nomar Negroni was far too short…I would have liked to hear more. A live performance of this tune would be a real treat! "Cuco Y Olga" invokes the traditional, well-loved Afro-Cuban rhythms, and uses jazz motives over traditional Latin voicings. "Cha Cha Pa Ti" was composed by bassist Gabriel Vivas and it features a fun horn line riding over the top of a tasteful and creative bass line. "Queen of the South" is a sweet, sultry tune, but Michalak's sax could have been more relaxed. Vivas' composed the disc's final tune, "Funny Talk", and the bass line intertwines with piano and percussion.  Norris contributes another playful trumpet solo, and Figueroa plays a tasty improvisation.
The mixing and production work are the work of a very good ear. A fan of Latin rhythm, a fan of fusion, a fan of jazz will all find something to satisfy in this recording.