JANE IRA BLOOM: "EARLY AMERICANS" (Outline 142)
While the title of Jane Ira Bloom's new CD, "Early Americans" may refer to its many Native American-flavored originals, the album is primarily a celebration of her current trio, featuring bassist Mark Helias and drummer Bobby Previte. Bloom has worked with these musicians—separately and together—for many years, and she wanted this album to reflect the way the trio plays in live performances. The re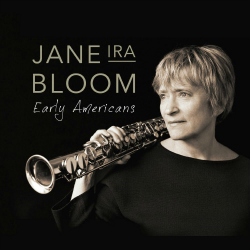 cording achieves that goal many times over. The intense communication between the musicians is evident from the downbeat of the opening track, "Song Patrol". Helias and Previte set up a flexible groove, with Helias freely moving between traditional bass notes and improvised counterpoint with Bloom's rich-toned soprano saxophone. "Dangerous Times" is the first of the Native American pieces, and while the atmosphere is set with a single chord, tom-tom and tambourine, I couldn't discern whether this or any of the other Native American pieces were drawn from particular tribes or were just based on a general conception of the musical language. However, I was impressed with the singular way Bloom evoked the sound of this music with a plaintive, vibrato-less tone and well-placed appoggiaturas. As the album progresses, the instrumental balance shifts in subtle ways. For example, Previte's drums dominate the interplay on "Hips and Sticks", while most of the next track, "Singing the Triangle" is a three-way conversation with no single voice predominating. "Other Eyes" is one of Bloom's most touching ballads. Performed as a sax/bass duet, it offers opportunities for Bloom and Helias to solo without accompaniment, bringing out the lonely quality of Bloom's original melody. She also wrings out great emotion during her improvisation on "Mind Gray River" and in her unaccompanied versions of the previously recorded original "Nearly" (dedicated to Bloom's late friend and former band mate Kenny Wheeler) and Leonard Bernstein's "Somewhere". Bloom uses her live electronics setup sparingly on this disc, but it is highly effective over the funk groove of "Rhyme or Rhythm" (which seems to also include an overdubbed bongo line). The trio swings mightily through most of Bloom's air-and-space opus, "Gateway to Progress", but near the end, they allow the driving tempo to break down and build up again through Previte's ingenious drum solo. Even if the meaning of the album's title is elusive, "Early Americans" is clearly one of Bloom's finest recordings to date.
ROBERTA PIKET: "ONE FOR MARIAN—CELEBRATING MARIAN McPARTLAND" (13th Note 9)
Marian McPartland was one of Roberta Piket's greatest mentors. After hearing Piket at the 1994 Thelonious Monk Composer's Competition, McPartland invited her to be a guest on her radio show "Piano Jazz"—even though Piket had not yet recorded her debut album. McPartland's music has been part of Piket's repertoire for years, but on her new CD, "One for Marian" she presents McPartland's compositions in resourceful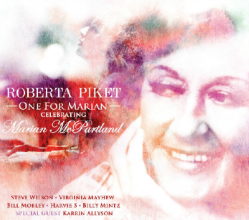 arrangements for sextet.  Piket's setting of "Ambiance" maintains the mood of the original while taking a completely different direction than the well-known Thad Jones arrangement. Here, Piket creates a simple but effective counterpoint between the tenor sax of Virginia Mayhew and the combined sounds of Steve Wilson's flute and Bill Mobley's trumpet. The passage returns near the end of Piket's sparkling piano solo in anticipation of the melody's return. The title track is a Piket original with darting rhythmic motives, which are expertly accented by bassist Harvie S and drummer Billy Mintz. Mayhew plays a fine solo over the shifting rhythms, while Wilson plays a stretch of straight-ahead bop on alto sax before adjusting to the patterns of the rhythm section. After Piket's delicate introduction to "In the Days of Our Love", Mobley displays a clear singing tone in a solo that embraces both the slow opening tempo and the double time background. The melody statement also includes a lovely passage for muted trumpet, flute and clarinet, which is recapitulated by trumpet and sub-tone saxes in the coda. Karrin Allyson joins Piket for an introspective duet on "Twilight World". While this track was their first performance together, they seemed to find an instant connection, and hopefully they will record more duets in the future. I was fortunate enough to hear McPartland play "Threnody" live on a couple of occasions, but the lively tempo of Piket's arrangement—along with Wilson's soaring flute—gives the piece a refreshing change of character. The juxtaposition of Mayhew's tenor (and later, Mobley's trumpet) with Mintz' bongos creates an effective setting for "Time and Time Again"—and Mintz enhances the drama by sticking with the bongos rather than reverting to the drum set during the solo sections. "Saying Goodbye" features more of Piket's deft arranging skills, including a lovely horn backdrop for Harvie S' bass solos. "Kaleidoscope" was the theme song for "Piano Jazz" but listeners rarely heard more than the opening figure on the show; Piket uses the entire tune for her version and it makes a rousing closer for the CD. This album is a superb tribute from one fine pianist-composer to another, and I suspect that McPartland would have thoroughly enjoyed the results.
MATT WILSON'S BIG HAPPY FAMILY: "BEGINNING OF A MEMORY" (Palmetto 2182)
The death of a spouse can be a major blow to anyone, but it seemed particularly cruel when Matt Wilson's wife Felicia lost her battle with leukemia, leaving Matt to raise four children on his own. Apparently, Felicia shared Matt's unorthodox approach to life and music, and so Matt's newly released tribute to her, "Beginning of a Memory" is more like an emotional roller coaster than a gloomy memorial. Wilson gathered the members of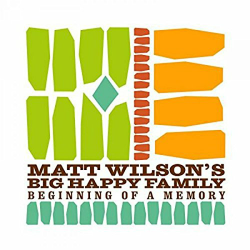 his ensembles, the Matt Wilson Quartet, Arts and Crafts, and Christmas Tree-O to create a new group called "Big Happy Family". The lineup is truly impressive: trumpeter Terell Stafford, cornetist Kirk Knuffke, saxophonists Andrew D'Angelo, Joel Frahm and Jeff Lederer, bassists Martin Wind and Paul Sikivie, and Wilson on drums. In addition, the CD includes guest appearances by pianist Larry Goldings, keyboardist/accordionist Gary Versace, guitarist Matt Balitsaris and bassists Chris Lightcap and Yosuke Inoue. The 63-minute album contains a wide range of styles from the straight-ahead swing of "No Outerwear" through the wild free approaches of "Searchlight", "Go Team Go" and "Schoolboy Thug". There are plenty of unusual moments as well, including the opening fanfare, "Score" (which sounds like something lifted from the book of Charlie Haden's Liberation Music Orchestra), the country waltz "25 Years of Rootabagas" and Goldings' prepared piano solo on "How Ya Goin'?" Yet, some of the unusual repertoire leads to unexpectedly emotional moments, such as the lovely Carter Family classic "Wildwood Flower", which Lederer imbues with great passion, and Inoue's restrained bass solo on the schlocky 1980s pop hit, "Endless Love". Other highlights include the growling trumpet duet and moaning Mingus-style ensemble on "Lester", the Lightcap/Sikvie bass duet on "Getting Friendly", the unbeatable front line of Stafford and Frahm on "No Outerwear", Knuffke's lovely intonation of the violin melody played by Felicia on the original recording of "Beginning of a Memory" (on the new version, D'Angelo's searing alto sax provides powerful counterpoint to Knuffke's cornet), and the saxophone free-for-all on "Searchlight". Wilson is one of the most imaginative drummers working today, and the solos he creates on the adjoining tracks "Andrew's Ditty" and "Flowers for Felicia" are as notable for their content as they are for their vast differences in approach. Taken as a whole, "Beginning of a Memory" acts as a huge emotional release, which must have been overwhelming for the musicians, but which also carries through to the listeners. From what we can hear in the music, Felicia must have been quite a special lady. She was fortunate that Matt remained to tell the rest of the world about her.