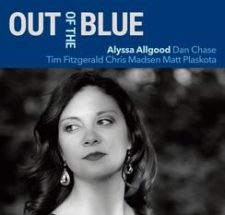 ALYSSA ALLGOOD: "OUT OF THE BLUE" (Jeru Jazz 5)
Chicago vocalist Alyssa Allgood's delightful new album "Out of the Blue" offers fresh vocal renditions of instrumentals originally recorded on Blue Note. It is not the first time that a vocalist has tackled this goldmine of jazz originals: British vocalist Anita Wardell's 2006 CD "Noted" took a similar approach to the same repertoire. I'm not sure whether Allgood has heard Wardell's record, but she has certainly found her own direction through this vast catalogue. Her vocalese lyrics have great clarity and the same adjective could be used to describe her singing voice. There is little artifice in her delivery—she has an innate ability to find the center of the music and she doesn't waste notes when she sings the melodies or when she scats. Her improvised chorus on Sam Rivers' "Beatrice" reveals her sophisticated knowledge of post-bop harmony, as well as her well-honed sense of musical economy, while her solo on Joe Henderson's blues "If" shows her ability to generate excitement and swing. I'm particularly impressed with "Moanin'", the album's penultimate track. Allgood sings Jon Hendricks' original vocalese lyrics, but the arrangement transforms Bobby Timmons' original into a funky boogaloo. Allgood and tenor saxophonist Chris Madsen perform a great series of improvised exchanges, followed by a fine guitar solo by Tim Fitzgerald. Meanwhile, organist (and co-arranger) Dan Chase and drummer Matt Plaskota provide a splendid cushion for the soloists. Later, they offer effective punctuations to Allgood and Madsen's complex shout chorus (partially based on Lee Morgan's original trumpet solo). While Allgood released an EP a few years ago, "Out of the Blue" will probably serve as her introduction to the jazz world. I suspect (and hope) that we will hear much more from this abundantly talented young lady.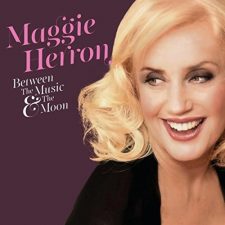 MAGGIE HERRON: "BETWEEN THE MUSIC AND THE MOON" (self-released)
"Between the Music and the Moon" is Hawaii-based Maggie Herron's third album, but it is the first to focus on the original songs co-written by Herron and her daughter Dawn. This cross-generational writing team displays an admirable range of styles, from the sly wit of the opening track "Wolf", through the insistent rhythms of "I Can't Get to Sleep" and the lush romanticism of the title tune. Herron's smoky voice sounds like a mix of Cleo Laine and Dusty Springfield, and while there is considerable weight in her voice, she exhibits great control with dynamics (the whispered French lyric at the end of the title track is very effective) and she is able to adapt her voice to the ever-changing styles of the background arrangements. Five of the album's arrangements were written by Bill Cunliffe, who was probably also responsible for gathering the impressive group of LA-based musicians who back up Herron on this recording. Guitarist Grant Geissman serves as the principal soloist through most of the album, with flutist Bob Sheppard and trumpeter DeShannon Higa playing fine solos on the Latin-flavored "I'll Never Leave Your Side". Saxophonists Sheppard and Brian Scanlon, trumpeter Ron Stout and trombonist Bob McChesneyprovide tight horn backgrounds, over the solid rhythm team of Cunliffe or Herron on piano, Dean Taba on bass and Abe Lagrimas on drums. While this is not a straight-ahead jazz album, the closing bass/voice duet on the sassy "I Lie Just a Little" comes fairly close, featuring Herron's scat singing and some soulful blues shouting. However, all of the tracks exhibit a high level of musicality in both the compositions and the performances and that should attract a wide range of listeners from different genres and generations.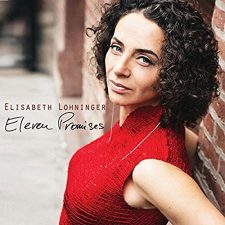 ELISABETH LOHNINGER: "ELEVEN PROMISES" (JazzSick 5097)
There's always a sense of surprise within any album by Elisabeth Lohninger. Her holiday disc "Christmas in July" featured songs in several languages and intriguing mash-ups between the jazz repertoire and classic holiday songs. "Live" was an ear-bending concert performance, while"Ballads in Blue" was an intimate but thought-provoking look at standards. Her new recording, "Eleven Promises" is a mostly-original song cycle that chronicles her marriage to pianist Walter Fischbacher. At times, the songs veer towards romantic pop, but Lohninger and Fischbacher keep the ideas interesting, as on the title track where the words a promise is a promise repeat over an uneven vamp in 11/16 time. The only standard on the album is an otherworldly take on "The Girl from Ipanema" that fragments the original melody and sets it over an unsettling drum pattern (expertly played by Ulf Stricker, a longtime associate of Lohninger and Fischbacher). English is not Lohninger's mother tongue, but her command of the language is complete, not only in her flawless diction, but in her brilliant use of free speech-like rhythms in her vocals (listen to her "Birthday Girl" for several enlightening examples). There is one notable departure from the otherwise all-English program, with the exciting Spanish choruses on "Ya Mi Corazon", based on Tirso Duarte's "Cuenta con los Santos". Fischbacher co-composed 7 of the 12 songs, and he plays both acoustic and electric keyboards throughout the album (he is also credited with the string arrangements, and since no string players are credited on the jacket, I assume that Fischbacher played the string parts on synthesizers.) Goran Vujic's creative bass lines and Gary Schreiner's understated harmonica enrich the lovely "Mellow Moon Moaning" (which concludes with some impressive high-register vocals). Like all of Lohninger's albums, "Eleven Promises" rewards close and undisturbed listening. On the surface, it is an album of love songs, but there is a lot going on within these multi-layered performances.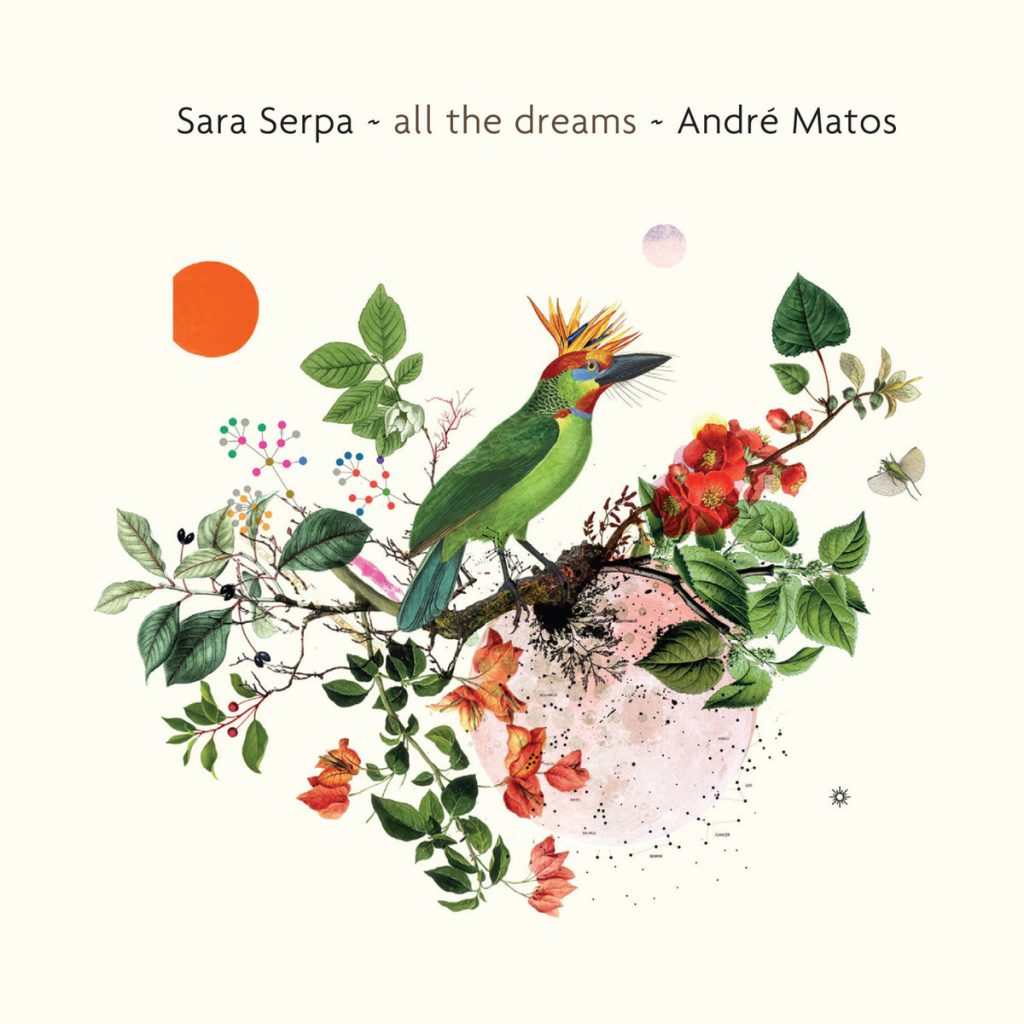 SARA SERPA/ANDRÉ MATOS: "ALL THE DREAMS" (Sunnyside 4028)
In a way, Sara Serpa's newest album "All the Dreams" is a throwback to the fearless music on her 2010 Inner Circle release, "Mobile". On that album, there is a deft mixture of wordless vocals, poetry, and brilliant improvisations. "All the Dreams" has that same mixture—and like "Mobile", it features Serpa's husband, guitarist André Matos (here rightfully credited as co-leader)—but there is a much gentler approach on the new album, showing that Serpa and Matos can be adventurous musicians without the edginess. A key to this music is the poetry, which is not printed on the CD jacket but is readily available here. With access to the words—some of which are deliberately clouded in Serpa's delivery—the appropriateness of the dreamlike musical structures (created through Serpa's voice and piano, Matos' guitars and electric bass—with occasional contributions from Pete Rende's eerie synthesizers and Billy Mintz' sturdy drums) becomes readily apparent. Through innovative use of the recording studio, Serpa and Matos create an unworldly atmosphere where the ideas seem to float in mid-air, and where the wordless vocals seamlessly blend into the poetry. Because this music works so well as an integrated suite, it is hard to pick out individual tracks for praise. I admire the spare settings of William Blake's "Night" and Serpa's original poem "Lisboa", as well as Serpa's multi-tracked voice on "Os Outros", but I believe that they are most effective within the context of the album. It is certainly gratifying to hear CDs that are conceived as albums, rather than individual tracks for downloading. It could be said that all of the albums in this review share that trait, but "All the Dreams" is a recording that should be heard in its original sequence and as a unified whole. I couldn't imagine listening to it any other way.