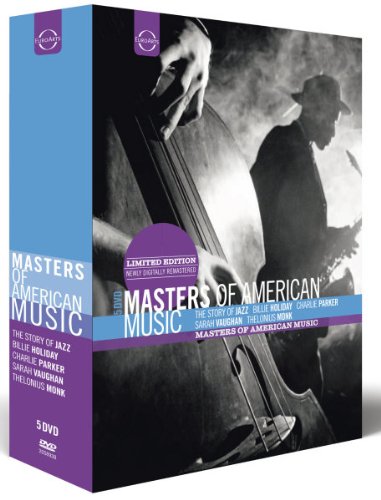 Arriving just in time for Christmas (and at a very reasonable price), Naxos/EuroArts has reissued several of Toby Byron's "Masters of American Music" documentaries in a handsome 5-DVD boxed set. These films, dating from 1987-1993, feature expert scripts, superb film clips and fine interviews. They have aired on PBS, Bravo and Ovation, and have appeared on home video at least twice before. While the discs here offer little in supplemental features, they would be a superb gift for the newcomer to jazz. All of the discs are available separately, and are housed in slim cardboard DVD digipaks.
Directed by Matthew Seig from a script co-written by Seig and Chris Albertson, "The Story of Jazz" attempts the near-impossible: the telling of 100 years of jazz history in just under 100 minutes of video. It's easy to nit-pick something like this, but while there are important musicians omitted or under-represented, Seig and Albertson do a reasonable job in covering the vast array of styles and performers. In several ways, it is the spiritual godfather to Ken Burns' "Jazz". Despite the fact that the Burns runs over 10 times as long as "Story of Jazz", both documentaries are noticeably weaker when dealing with the jazz of the last 50 years, both downplay the role of white musicians, and both predominantly feature Wynton Marsalis, whose conservative approach to jazz history seems to have influenced the narrative (less so on "Story" than on the Burns). It is fine as an introduction to the music, provided that the novice listener can access other recordings and documentaries to fill in the inevitable gaps left out of this limited overview.
The remaining four discs in the box are all one-hour profiles of jazz giants that allow greater detail into their lives and music. "Lady Day: The Many Faces of Billie Holiday" is one of the best documentaries made about the singer. Robert O'Meally's script draws from Holiday's autobiography (read by actress Ruby Dee), and while noting the book's many exaggerations, the excerpts in this film show Holiday's acute observations about the music she sang and her fellow musicians. To be sure, none of the interviewees (including Milt Gabler, Carmen McRae and Mal Waldron) back away from Holiday's personal issues, but those problems are shown in the context of her art.  Even the understated montage of newspaper clippings chronicling her various arrests is set against a recording of Holiday rather than voiceover narration. Best of all, we get to hear Holiday sing, in filmed performances that are kept intact and speak for themselves. The clips from "Jazz Party" and "The Sound of Jazz" are familiar to most jazz video collectors, but they look better here than anywhere else, and Naxos/EuroArts should seriously consider remastering and reissuing several of these original jazz television programs.
As uncompromising as the man himself, "Thelonious Monk: American Composer" treats its subject with dignity and respect. While Monk's approach to composition and the keyboard were unorthodox, the focus of the film is on the beauty and timelessness of his music. Several of the interviews were held in the now-deserted Minton's Playhouse, site of Monk's earliest creative successes, and the interviewees (including Randy Weston, Billy Taylor, Barry Harris and Ben Riley) tell of their first exposure to Monk and their eventual friendships with him. Thelonious Monk, Jr. and Monk's sister, Marian White, fill in the gaps on his early years and family life. Monk pére only speaks in one clip, but his music is everywhere in this film with several generous clips from his tours in the 1960s. There are also brief audio excerpts of Monk at Minton's and with Coleman Hawkins. This first-class production was directed by Seig with the script and interviews conducted by Quincy Troupe.
"Celebrating Bird: The Triumph of Charlie Parker" is based on Gary Giddins' biography, and is the earliest of the documentaries in this set. While it also has the most narration and interview footage of the bunch, it is still one of the primary resources for information on Parker's life and music. The film, made a year before Clint Eastwood's biopic "Bird", offered the first interviews with Parker's first wife, Rebecca, and her graphic description of Parker taking heroin still shocks the viewer. Parker's important recordings are also covered, but other than the now-famous film clip of Parker and Dizzy Gillespie playing "Hot House", the musical excerpts are covered with interviews or narration. Gillespie, Roy Haynes, Jay McShann and Parker's common-law wife Chan offer superb discussions of the music, and the many anecdotes related throughout give a well-rounded picture of Parker the man.  Although the documentary's style has been somewhat eclipsed by the other entries in this set, "Celebrating Bird" remains a milestone of the genre.
Unlike the other musicians in the set, Sarah Vaughan was filmed extensively throughout her career. Thus, director Matthew Seig and writer Dan Morgenstern had a wealth of superb film performances to use in "Sarah Vaughan: The Divine One", and more than any other film in this collection, they built the documentary around the film clips. The clips show Vaughan in settings ranging from symphony orchestras, big bands, trios and her own solo piano, and the documentary culminates with wondrous performances of her most famous numbers, "Misty", "Tenderly", "Send in the Clowns" and "Over the Rainbow". A Vaughan interview with Dick Cavett allows the singer to tell much of her own story, but her mother and daughter also provide poignant stories of her personal life, while longtime friends Billy Eckstine and Joe Williams, drummer Roy Haynes, pianist George Gaffney and arranger Marty Paich tell of working with Vaughan at various parts of her career. Filmed just a year after her passing, the sense of loss comes through in all of the interviews, and Eckstine's obvious regret in not spending more time with his friend is very moving.
One noticeable omission from this set is Gary Giddins' profile of Louis Armstrong, "Satchmo". While a trailer for that film is included in the box, the film itself does not appear, probably due to its current availability in an excellent edition from Sony Music. There are at least another five films in the Masters of American Music series, including profiles of Miles Davis, Ray Charles, Count Basie, John Coltrane and an overview of the blues titled "Bluesland". Since some of these programs have yet to be released on home video, one would hope that Naxos/EuroArts will clear the necessary legal hurdles to release a second box of this series in the near future.