CAMILLE BERTAULT: "PAS DE GÉANT" (Okeh 42232)
French vocalist Camille Bertault is best known for her series of YouTube videos, where she flawlessly scats famous jazz solos alongside the original recordings. Her previous album "En Vie" was recorded before she began making videos, but released by Sunnyside in the wake of her success. Thus, Bertault's latest di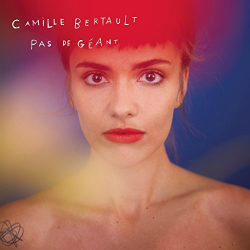 sc "Pas de Géant" is her first album to expand upon the music from her YouTube series. The album title translates to "No Giant", which is a reference to her version of John Coltrane's "Giant Steps", Bertault's first major YouTube hit. Listeners may be surprised to hear the version recorded here (under the title, "Là Où Tu Vas") as Bertault sings Trane's solo over synthesizer backgrounds and a slowly grooving funk beat. Clearly, Bertault wants to make her own mark, and that focus extends to all 16 tracks of the disc, which includes compositions by Maurice Ravel, J.S. Bach, Michel Legrand, Bill Evans, Wayne Shorter, and Brigitte Fontaine, along with Bertault's own originals. Most of the tracks are polished to a high gloss, as in the opening two tracks "Nouvelle York" and a pop-style remake of "It Hurts to Say Goodbye". However, Bertault has not lost touch with her jazz roots: Her original "Suite, au Prochain Numéro" has a full-length scat solo and a beautifully-executed shout chorus by the horns,  Shorter's "House of Jade" features Bertault's vocalese lyrics, sung in hip jazz harmonies in both Portuguese and French, "Comptes de Fées" has a delightful section sung over a bed of saxophones, and Evans' "Very Early" retains the lush romanticism of its composer's recordings. One track, "Goldberg", harkens directly to Bertault's original video, where she scatted with Glenn Gould's recording of Bach's "Goldberg Variations" while cooking in her kitchen (here, pianist Dan Tepfer ably subs for the late classical pianist). Only one song is performed in English and those—like me—who struggle with the French language may feel that they are missing a significant part of the music. The booklet's only English translation is for "Giant Steps", and translating the French lyrics through online sources usually yields confusing results. But just like Bertault's previous CD, "Pas de Géant" can be appreciated for its fine musical quality alone.
ALEXIS COLE (with ONE FOR ALL): "YOU'D BE SO NICE TO COME HOME TO" (Venus 1046)
Recorded in 2010 for release in Japan, Alexis Cole's album "You'd be So Nice to Come Home To" has finally been released in the US. Cole, a fine vocalist perhaps best-known here for her recordings of Pepper Adams songs, displays an exuberant personality, outstanding diction, flawless pitch and inspired scat technique, all qualities that should place her in the highest echelon of contemporary jazz singers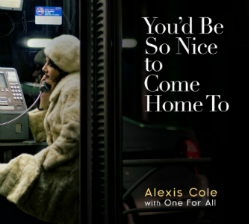 . Her swinging variation on "I Will Wait for You"—performed in tandem with tenor saxophonist Eric Alexander—is a model of artistic collaboration where both artists' lines can be heard clearly, but each line is enhanced by the other. Both "I Will Wait" and the next track "Moon River" are usually performed as ballads, but Cole's versions recast them as medium-tempo swingers; however, Cole does not let the faster tempo impede the romantic messages of the lyrics. "Delilah" borrows its exotic treatment from the famous Clifford Brown/Max Roach recording, while the waltz setting of "Cry Me a River" features a sultry (but not breast-beating) rendition of the lyric, and a superbly executed scat solo. The sextet One for All (with trumpeter Jim Rotondi, trombonist Steve Davis, tenor saxophonist Eric Alexander, pianist David Hazeltine, bassist John Webber and drummer Joe Farnsworth) provides immaculate backgrounds for Cole throughout the album (although, on "Alone Together", the intricate horn parts nearly engulf Cole's vocal). In addition to being a superb ensemble, the members of "One for All" are also excellent soloists, with Rotondi turning in fine solos on "Delilah" and the title track, along with a marvelous improvised duet with Cole on "A Beautiful Friendship"; Alexander adding his meaty tenor sound to "River", "Friendship" and "I Will Wait"; and Davis contributing boppish solos on "Alone Together" and "So In Love". Webber gets his only solo on "All the Things You Are" and his lean walking lines support Cole at the beginning of the out-chorus. Hazeltine's skill as an accompanist show on every track—even when he's not soloing—and Farnsworth's resourceful solos on "Delilah" and the title track should not overshadow his outstanding support of Cole and the band throughout the disc. If the album has one flaw, it is the near-absence of ballads. The one track in a slow tempo, "You've Changed", shows that Cole can communicate an intimate mood with great passion. I would have enjoyed a second example. Nonetheless, this album is a welcome (and long overdue) addition to the vocal jazz canon. It is certainly worth your attention.
KATE McGARRY/KEITH GANZ/GARY VERSACE: "THE SUBJECT TONIGHT IS LOVE" (Binxtown 2017)
The booklet photos for Kate McGarry's new CD "The Subject Tonight is Love" show her, guitarist Keith Ganz and keyboardist Gary Versace in a living room, making music for their own enjoyment. The music contained on the disc carries the same intimacy one might find at a house concert, where a small audience provides the necessary energy to inspire the performers to greater heights. McGarry's variations on "Gone with the Wind" are breathtaking, and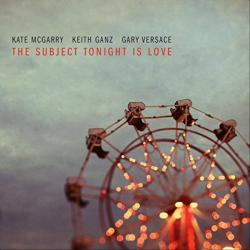 her unique combination of innocence and emotional depth unite to create a version of "My Funny Valentine" which stands as near definitive. I have new respect for the Benny Golson/Kenny Dorham composition, "Fair Weather" because of McGarry's sensitive interpretation which collects a series of seemingly random thoughts into an integrated whole. On her original "Climb Down", McGarry tries to make peace with her Irish ancestors, and the track concludes with a brief rendition of an Irish pub song (with guest drummer Obed Calvaire). Another medley, "She Always Will" and "The River", is a mesmerizing piece linking our lives with nature. Ganz (who is also McGarry's husband) and Versace (a long-time friend and collaborator) are far from mere accompanists on these tracks. Their solos add necessary depth to the arrangements, enhancing McGarry's conception of the lyrics and adding immeasurably to the emotional impact of each song.  For example, during the guitar chorus on "Valentine", Versace and Ganz employ rubato in a most subtle way (a device easily missed by those not paying close attention). That hesitancy in tempo—which is echoed by McGarry in the next chorus—brings out the uncertainty embedded in Lorenz Hart's lyric. Not everything on the disc is serious and intense: "What a Difference a Day Made" is a light-hearted romp over an implied samba rhythm. McGarry's voice captures a sense of utter joy as she freely switches between lyrics and scat over Versace's whirling Wurlitzer. The album opens with a recitation of the title poem and it closes with a quirky version of the Beatles' "All You Need is Love" (with Ron Miles added on cornet), but to my mind, the true bookends of the album are the versions of "Secret Love" and "Indian Summer", two well-worn standards that are revitalized by McGarry, Ganz and Versace—not through fancy arrangements or unusual concepts, but by performing them in a straight-forward manner which lets the innate qualities of the songs come through. That indescribable sense of adding just the right nuances is what makes Kate McGarry, Keith Ganz and Gary Versace masters of their art.
NORMA WINSTONE: "DESCANSADO" (ECM 2567)
Collections of movie songs are common fodder for vocalists, but Norma Winstone's new disc, "Descansado" expands the concept through obscure material and sparse arrangements. Using the same trio as on her last four albums—pianist Glauco Venier and reedman Klaus Gesing (augmented at times by percussionist Helge Andreas Norbakken and cellist Mario Brunello)—Winstone explores music written for films made on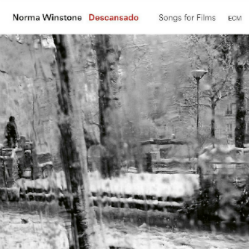 both sides of the Atlantic. The CD opens with a song from "The Thomas Crown Affair", but it is not the well-known "Windmills of Your Mind"; rather the forgotten gem, "His Eyes, Her Eyes". Winstone's interpretation echoes the reluctant lovers portrayed in the lyrics by Alan and Marilyn Bergman, and as the lyric's intensity increases, her phrases grow longer and more inviting. "What is a Youth?" is better-known as "A Time for Us", Nino Rota's love theme from "Romeo and Juliet" (1968). In addition to using the rare Eugene Walter lyrics, Winstone goes beyond the original theme to offer a wider perspective on Shakespeare's star-crossed lovers. The title track stems from a Vittorio de Sica comedy anthology film, released in the US under the title "Yesterday, Today and Tomorrow". Winstone's original lyrics use the elements of the film title to emphasize the importance of living and loving in the present tense. On the next two tracks, Winstone's voice acts as another color in the ensemble, as she sings wordlessly alongside Gesing's soprano sax on the themes to Jean-Luc Godard's "Vivre Sa Vie" and Wim Wenders' "Lisbon Story". Apparently, these two tracks were added at the last minute, but I wish the trio had done more with this material than just perform the themes without improvisations. On the group's tender interpretation of "Malena", Venier plays richer harmonies and Brunello provides a lovely countermelody, as Winstone adorns Ennio Morricone's angular melody with her sensitive lyrics. The theme from "Il Postino" features the unique combination of Winstone's clear vocal tones with the deep low-register of Gesing's bass clarinet and Venier's light high-register piano. That sound is further developed on the next track, "Amarcord", where Gesing's bass clarinet, Norbakken's cymbals and Brunello's cello are gradually added to the texture as Winstone sings her original lyric. The album's last two tracks represent classics of the film music genre, William Walton's "Touch Her Soft Lips and Part" (from "Henry V") and Bernard Herrmann's theme from "Taxi Driver". Here, Winstone, Gesing and Venier reflect the sentiments of the music without flashy settings or unnecessary filigrees. This is music that speaks as much in silence as it does in sounds.