The jazz lover looking for the most vibrant scene in the country needs only to visit the Northeastern United States to hear a plethora of dynamic music. New York City has the greatest abundance of clubs, but there are vital jazz scenes in cities from Boston to Washington. Between residents and tourists, there are plenty of jazz fans who fill up these venues to appreciate their favorite music. I visited Boston, New York, Washington and Philadelphia from May 17-25, 2016 and in that time, I heard eight sets of music performed by six ensembles in two cities. It was, for all intents and purposes, a typical week: several musicians were out of town touring, and there were other musicians who were in town but just didn't have a gig. If I had changed my plans by a week, I might have heard a completely lineup of players. As it stood, it was a tremendous experience.
Most of my time in New York City was scheduled for the end of my trip, but I readjusted my schedule to catch the vocal trio Duchess at the Jazz Standard on May 18. The performance was to include several of the new pieces the group was scheduled to record in the studio the following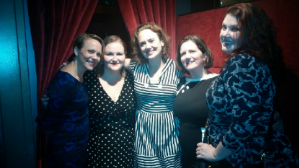 week. Unfortunately, vocalist Melissa Stylianou's father passed away in Toronto, and she missed the gig to attend the funeral. Stylianou's absence was a definite loss: while the extraordinarily talented Wendy Gilles did a great job of singing Stylianou's parts, Duchess' other members Amy Cervini and Hilary Gardner decided to leave out all of the group's Boswell Sisters charts as well as most of their specialty arrangements (written by Cervini's husband Oded Lev-Ari). It was still a fun show, with guest instrumentalists Mike Sailors, trombonist Josh Brown, alto saxophonist/pianist Will Vinson, and tenor saxophonist Jeff Lederer augmenting the group from time to time, and extra features for guest vocalists Jo Lawry and Jane Monheit. Gardner and Monheit did a splendid bilingual duet on "Corcovado", and Lawry brought all of the vocalists on stage to lead the audience in a four-part sing-along on "Morning Person". Cervini and Gardner both reprised their solo numbers from the first Duchess CD—Cervini on Cy Coleman's catchy "A Doodlin' Song" and Gardner on the undeniably charming "Brooklyn Love Song"—and later, Cervini and Lederer raised the roof with an unhinged rendition of "A Good Man is Hard to Find". (Photo, L-R: Jo Lawry, Wendy Gilles, Hilary Gardner, Amy Cervini, Jane Monheit).
While in Philadelphia on the evening of May 20, I caught sets by two fine groups. As part of the Philadelphia Museum of Art's "Art after 5" series, the Curtis Brothers Quartet (co-led by pianist Zaccai and bassist Luques) performed in one of the museum's larger rooms. Most of the program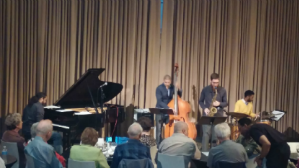 consisted of original pieces—including one that composer Zaccai and the group had not performed before—and while the music was progressive, it was still highly accessible. Near the end of the set, vocalist Milton Suggs joined the group for earnest renditions of two pieces by Oscar Brown, Jr.  What made this set almost unbearable were the room's terrible acoustics. With marble on both the floors and walls and a ceiling of at least 40 feet, the sound reverberated everywhere, and it was clear that the musicians had a very difficult time hearing one another. It's good for jazz musicians to have the support of the museum, but it would be better if they would host the performances in an appropriate venue. Later in the evening, I visited a new nightclub called South, which combines a fine gourmet restaurant with an intimate (and acoustically superb) jazz club. On this occasion, the locally based husband and wife team, Victor North and Meg Clifton performed with an excellent rhythm section. Victor's tenor sax style combines elements of John Coltrane, Wayne Shorter and several others, and while I wasn't impressed with their opening instrumental, an ill-advised up-tempo version of Jobim's "How Insensitive" (which was just that), the group acquitted themselves as they continued their set of blues and standards. Meg joined the group near the end of the set. Her well-calibrated use of space creates a fine balance with her husband's busy tenor style, and the final tune of the set, a bittersweet take on "Bye Bye, Blackbird", displayed her understated scat style.
I had planned to travel to Stony Brook to hear Lauren Kinhan at the new Jazz Loft on May 21, but my train to New York was delayed and I was unable to make the connection to Long Island. However, it wasn't too hard to find top-quality live jazz in Manhattan on a Saturday night! With a few well-placed phone calls, I landed a seat at Birdland to hear David Murray, Geri Allen and Terri Lyne Carrington's Power Tri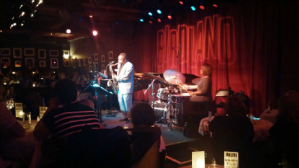 o. It was the final night of their stand at the storied nightclub, and they were in top form. On the Murray original "The David, Geri and Terri Show" (which Murray joked was one of the early suggestions of a group name), he started solo with some of the exuberant squawks that marked his days with the World Saxophone Quartet. When Allen and Carrington joined in, Murray combined the avant-garde effects with traditional elements, illustrating the continuum of jazz genres within his unique personal style. Allen played in a full rhapsodic style, with her strong left-hand lines providing the rich bottom end normally provided by a bass player. Carrington was a marvel, creating a powerhouse of cross rhythms and energetic propulsion with unique combinations of sticks and brushes. Carrington has also developed into a fine composer, as witnessed by her delicate portrait of Wayne Shorter, "Samsara". Allen's original tribute, "For Fr. Peter O'Brien", featured a quirky melody (featuring Murray on bass clarinet) that embodied the spirit of Mary Lou Williams' late personal manager. The group closed its set with a burning free jazz improvisation on Ornette Coleman's "Perfection". Murray blew with such intensity that he seemed to go into convulsions, his left leg beating a rapid pulse seemingly unrelated to the main tempo. When Murray's solo ended, Carrington turned up the juice behind Allen so that the intensity never flagged.
On May 22, I returned to the Jazz Standard for the final night of Ryan Truesdell's residency with his Gil Evans Project. It must have been a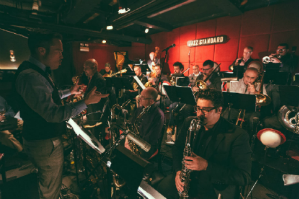 challenge to place 3 trumpets, 3 trombones, 5 saxes (with innumerable doubles), 2 French horns, viola, vocalist, and a full rhythm section with guitar and percussion on the Standard's tiny bandstand, but somehow they all fit, and unlike many big bands their combined ensemble sound did not blast everyone out of the room. Indeed, the room sound was notable for its extreme clarity: it was easy to hear individual parts within the tutti passages. The band featured top-flight soloists including Steve Wilson (alto sax), Donny McCaslin (tenor sax), Ryan Keberle (trombone), Marcus Rojas (tuba), Scott Wendholt and Mike Rodriguez (trumpets), Frank Kimbrough (piano), James Chirillo (guitar), Jay Anderson (bass), Lewis Nash (drums) and Wendy Gilles (vocal), but it was clear that everyone in the band was a top-notch musician. Truesdell had rehearsed the charts so well that they surpassed Evans' original recordings, both technically and spiritually. Their ten-minute-plus rendition of "Spoonful" held the audience in rapt attention despite being based on a single chord. Gilles was delightful on a tale of piscine genealogy "A Trout, No Doubt" (originally written for a 1957 Lucy Reed session), Wendholt played the trumpet part originally performed by Johnny Coles on a reconstructed version of "Davenport Blues" and Wilson brought new dimensions to three solo features originally created for Cannonball Adderley ("Struttin' with Some Barbeque", "Lester Leaps In" and "King Porter Stomp").
As the final stop of my musical journey, I stopped by Smoke on May 24 to hear Mike LeDonne's Groover Organ Quartet. I wrote the liner notes for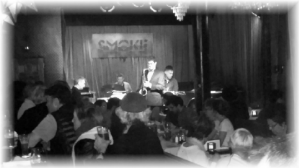 the band's last album "AwwlRIGHT!" (Savant) so it was fun to hear the band live. In addition to LeDonne on Hammond B3, Eric Alexander and Peter Bernstein were there on tenor and guitar respectively, and Jason Tiemann was a fine substitute for the band's drummer, Joe Farnsworth. LeDonne's original "Mary Lou's Blues" (inspired by a Mary Lou Williams riff) was on the program, as were several jumping blues, a happy Charles Earland-inspired piece and a lovely original dedicated to LeDonne's daughter. There weren't many stage announcements: as soon as one piece ended, LeDonne noodled a little on the keyboard and kicked off the next tune. The biggest surprise was based on my own expectations: organ groups usually bring out highly vocal crowds, with audience members shouting encouragements to the bandstand. Not in this case. Smoke bills itself as a supper club and jazz club, and as such, it attracts a different clientele. The exuberant applause showed that the audience appreciated the music, but perhaps they were too busy eating the gourmet food to jump and shout to the music.
While on the East Coast, I checked out several museums with jazz-related exhibits. The Performing Arts Reading Room at the Library of Congress has Larry Appelbaum's fine exhibit "The Jazz Singers" on display through July 23. The space features great photos by William Gottlieb, and samples from the Library's enormous collection of artifacts. You can see many of the objects online here, but it's worth the trip to DC to see it all in person. Besides, the loop of jazz videos is a rare treat, and it offers an ongoing soundtrack to the exhibit. While in DC, fans should also stop by the Smithsonian National Museum of American History to see a new collection of Ray Charles memorabilia. Back in New York, the Louis Armstrong House Museum is a must-see, and scholars should make an appointment to check out the Armstrong Archives at Queens College (the Museum has just announced the construction of a new educational complex located across the street from the Armstrong House; when completed, it will be the new home for the Archives.) Also, the National Jazz Museum in Harlem has recently relocated, and they have a new exhibit featuring Harlem's role in New York jazz. One of Duke Ellington's pianos is on display, as are vintage recordings, and impossibly rare invitations to 1920s rent parties. In addition to seeing the exhibit, I attended a Cannonball Adderley listening party hosted by Christian McBride. Several dozen people were in attendance as McBride offered an overview of Adderley's music from the 1960s.
Finally, I encourage any jazz fan residing in or visiting New York to visit the Paley Center for Media. They have a superb collection of jazz films, all of which can be viewed on HD computer monitors in their library. During my visit, I saw one of the rarest and greatest of all jazz videos, WCBS-TV's "Robert F. Kennedy: A Contemporary Memorial". Produced and hosted by Father Norman J. O'Connor, this film features an incredible lineup of jazz greats (including Duke Ellington, Woody Herman, Horace Silver, Bill Evans, the Modern Jazz Quartet, Joe Williams, and the Thad Jones-Mel Lewis Orchestra) in thoughtful musical tributes to the fallen Senator. Incredibly, this 2 ½ hour show was produced only three days after RFK's assassination! A grainy, black and white partial copy of this show has circulated among collectors for years, but the Paley copy is pristine, complete and in color. The program did not play on the CBS network and has never been issued on home video, so it is virtually unknown to most jazz aficionados. Jazz fans should also take additional time to explore the Paley's other jazz video rarities.
As noted in the April edition of "Notes from the Editor", part of the reason for this trip was to explore the possibilities of relocating myself and the website to the East Coast. The quality and abundance of resources and performances (along with trusted advice from long-time friends) has convinced me that relocation is a necessary move. It will not happen until 2017 at the earliest, but the process is already in motion. As Jon Hendricks once advised, Think you can lick it? Get to the Wicket! Buy you a ticket! GO!
All photographs by Thomas Cunniffe, except Ryan Truesdell Gil Evans Project, taken by Leonardo Mascaro.
– on Facebook: https://www.facebook.com/LeonardoMascaroFotografia
– on Instagram: @leomascaro
– on websites/print: Leonardo Mascaro