In the world of European Classical Music, one of the most venerable forms is the art song, also known as German lieder. While elements of the style can be traced to the 12th and 13th centuries, the art song flourished in the hands of the 19th century composer Franz Schubert, who wrote over 600 lieder, including the masterpieces "Gretchen Am Spinnrade" and "Erlkönig" (both set to texts by Goethe). At its finest, the art song coupled poetry which could—and did—stand on its own with evocative musical settings which enhanced the poetry's storyline and subtext. Art songs have been composed over the past two centuries, embracing (or at times, rejecting) the current trends in instrumental composition. They have also comprised a considerable portion of the output of American classical composers including Charles Ives, Leonard Bernstein, Ricky Ian Gordon and Libby Larsen. There is an obvious parallel in the works of great American songwriting teams like the Gershwins, Rodgers and Hart, Kern and Hammerstein, Arlen and Mercer, and Lerner and Loewe. While there are many tremendous compositions from the Great American Songbook, few reach the literary heights of the classic art songs. That is not a criticism of the Tin Pan Alley lyricists; it simply reflects a difference in approach. Consider how poet Dana Gioia advised jazz pianist Helen Sung on how to approach verse: Read the poem aloud, listen to how the words fall rhythmically, how they flow, how the consonants and vowels sound, and the meaning's going to come at you sideways! Hardly the aesthetic for a hit song!
Jazz may have found its equivalent to the art song. On two extraordinary albums released within about a month of each other, the highly-esteemed j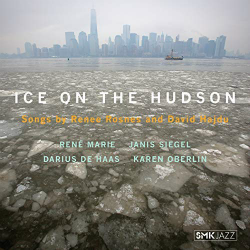 azz pianist-composers Helen Sung and Renee Rosnes have collaborated with former US poet laureate Dana Gioia and respected author and critic David Hajdu, respectively, to create song cycles deeply immersed in the worlds of jazz and poetry. Both collections gestated over the past four to five years, and both albums feature a group of diverse vocalists along with an outstanding collection of instrumentalists. The Rosnes/Hajdu collection "Ice on the Hudson" (SMK Jazz 1) includes vocalists René Marie, Janis Siegel, Darius de Haas and Karen Oberlin, and instrumentalists Ken Peplowski (clarinet), Steve Wilson (alto and soprano saxes), Seamus Blake (tenor sax), Erik Friedlander (cello), Rosnes (piano), Sean Smith (bass), Carl Allen (drums) and Rogerio Boccato (percussion). The Sung/Gioia album "Sung with Words" (Stricker Street 1002) features Gioia, vocalists Jean Baylor, Christie Dashiell, Carolyn Leonhart, and Charenee Wade, and instrumentalists Ingrid Jensen (trumpet), John Ellis (reeds), Sung (piano), Reuben Rogers (bass), Kendrick Scott (drums) and Samuel Torres (percussion).
The greatest advantage of these collaborations is their dynamic partnerships: the poets and musicians work together as they make decisions, and compromise where necessary. This type of collaboration allows each artist to retain his/her unique identity. Both Gioia and Hajdu have long-standing ties to jazz: Gioia spearheaded the NEA Jazz Masters program, and is the brother of jazz historian Ted Gioia; Hajdu wrote the superb Billy Strayhorn bio, "Lush Life" and previously wrote songs with pianist Fred Hersch.  I should note that jazz art songs are not entirely new (to start, there are the wonderful songs composed by tenor saxophonist Jim Tomlinson  and novelist Kazuo Ishiguro, sung by Tomlinson's wife, Stacey Kent; additional examples can be found in the works of Norma Winstone, Fred Hersch, Maria Schneider, and Luciana Souza).
The subtitle of the Rosnes/Hajdu disc is "Cross-Currents and Contradictions" and those terms match Hajdu's poetry. In the album's title track, he presents two unfinished scenarios and then marvels at how the ice on the Hudson River can flow either upstream or downstream. We can imagine how the stories end, but that's not Hajdu's point: he wants us to leave those outcomes open, either to calm or storm. He delights in pulling the rug out from under our expectations, as in "A Tiny Seed" or "I Still Feel the Same", or to simply define the differences between our colorful childhoods and our black-and-white professional lives on "I Used to Like to Draw". Gioia is more nostalgic than Hajdu, recalling the glory days of the Lighthouse jazz club in Hermosa Beach, or evoking the lonely feeling of New York City at night. He displays deep guilt during an illicit affair in "Touch" and mercilessly throws out a lover in "Too Bad". Gioia's lighter side comes in the arch "Pity the Beautiful" and in "Mean What You Say", where he chastises a friend for irresponsible behavior.
The Sung/Gioia disc is nearly palindromic, with instrumentals set in prime spots near the beginning and end of the album, with two powerful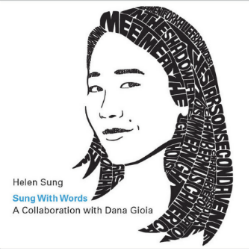 instrumentals at the center point. Gioia is an audible part of Sung's album, intoning his poems right before her settings (In most cases, the musical introduction starts over the last line or two of the recited poem). There's good reason for this practice: Sung has taken a looser approach to Gioia's poems than Rosnes did with Hajdu's. Sung fragments the words at places, leaves some out, or adds a few of her own (such as "grow up!" in "Mean What You Say"). Thus, the readings provide a direct comparison of Gioia's original versions with Sung's transformations. On the other hand, Rosnes' careful and diligent setting of every word (and the superb diction of the vocalists) would make a Hajdu reading of each poem redundant.
Rosnes lays out her settings in formal schemes that mirror Hajdu's verses. The vocal and instrumental soloists are rotated around so that each time a vocalist reappears, they are set against a new backdrop. Additionally, the songs show different aspects of the singers' personalities, allowing René Marie's playful and political side to enhance the not-too-subtle swipe at Donald Trump's proposed border wall, but later displaying her smooth tone to portray the Earth's silent orbit across the stars. Siegel's rich tone brings out the poignant message in "I Used to Like to Draw" and the shifting dramatics of "Ice on the Hudson". De Haas' declaratory approach to the complex "Trotsky in Mexico" and Karen Oberlin's delightfully loopy "I Like Pie" makes me believe that at least some of Rosnes' pieces could fit within a hip, post-Sondheim, Broadway show. Not the same for Sung, though: her pieces sound like they were created specifically for a nightclub (I'm sure that they work in a concert hall, too, but the intensity of the backgrounds, the snapping intensity of Kendrick Scott's drums and the powerful interplay of the horns call for the intimacy of a club.) Unlike Rosnes' solo settings, Sung has created several vocal duets—not the typical swapping of 8 to 16 bars at a time, but rapid-fire exchanges where the vocalists are sending comments back and forth every bar. Sung has also stretched out traditional forms, either through adding extra measures or by inserting rubato passages. Her vocalists may not be as well known as Rosnes' but they sing these complex songs with great skill and polish.
Jazz historians like me love artistic movements and categories because they allow us to connect musicians who are working in similar areas (for example, "if you like the Rosnes/Hajdu disc, be sure to check out the Sung/Gioia album"—or vice versa). However, contemporary jazz seems to reject the idea of movements and categories, instead providing the public with a large number of artists all supposedly doing their own thing. While the nearly simultaneous appearance of these two albums tempts me to declare that a new jazz movement is in the works, I will not do so for fear that said movement will dissolve by the time each artist releases a new album. Instead, I'll write that the pairing of poets and jazz composers seems particularly fertile right now, and it offers new and exciting avenues of artistic expression.