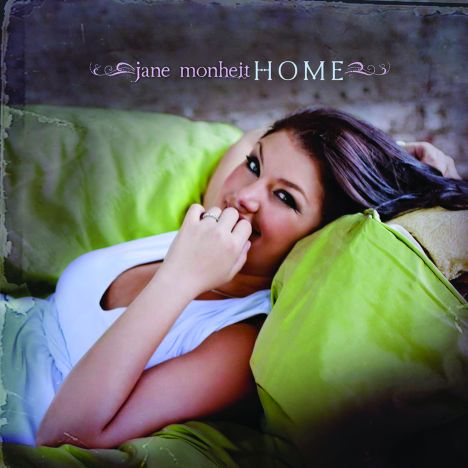 It's been 10 years since Jane Monheit first appeared on the jazz scene. Despite a barrage of misguided criticism, she is now an established performer with plenty of supporters and detractors. Monheit performed to a nearly-full house at the University of Denver's Newman Center on October 18 with her trio of Michael Kanan (piano), Neal Miner (bass) and Rick Montalbano (drums), and the concert illustrated several of her strengths and weaknesses.
Monheit is voluptuous as ever, and even though her stage banter tells of her life with her husband Montalbano and their little boy, she still plays her sexuality to the hilt, offering a wink or a teasing scrunch of the nose as she sings, and posing provocatively during the instrumental solos. It all seems rather mannered and could be toned down without losing the effect. After all, the audience has come to hear her sing and in that respect, she rarely disappoints. When performing the tidy arrangements from her recordings, Monheit displayed exceptional control and flawless intonation. She sang well-crafted scat solos on "There's A Small Hotel" and "Stardust", but more often she created melodic variations while singing lyrics. The variation she performed on Harold Arlen's "The Eagle and Me" was loaded with complex rhythms and a wide-ranging improvised melody, and her variation on "Old Devil Moon" led her into the bottom of her register. Her passion for Brazilian music came through in two beautifully-sung bossa nova standards, "E Com Esse Que Eu Vou" and "Samba Do Aviao".
Monheit excels at ballads, and there were several breathtaking examples during the concert. Harry Warren's "This Is Always" found the singer spinning a long-lined variation and a hint of double-time over the basic pulse. "Moon River" was performed as a duet with Kanan, and Monheit's emotional performance caused her to tear up as she sang. With her three issued recordings of the song, Monheit knows Arlen's "Over the Rainbow" better than anyone. The song used to be her final encore, but she has moved it to the end of the first half of her live show. It was during this song that Monheit was truly taking chances as she explored the harmonic and emotional depths of the song. Even more impressive was her second half closer, Leonard Bernstein's "Some Other Time". As on her recording, Monheit created fresh musical inventions on the melody and found new ways to vary the melody for the recurring "oh well" lyric. The ballads on Monheit's albums have sometimes come off as maudlin and sentimental, but in all of her ballads in the concert, Monheit seemed to internalize the emotion, which made her performances all the more powerful.
Clustered in a small, tight formation, Monheit's trio played flawlessly throughout the concert. Kanan is one of the best accompanists working today and he anchored the trio with both his letter perfect support of Monheit and his brilliant solo work. His wit was also on display as he worked in a quote of "Happy Birthday" (for the band's sound engineer) during the verse of "Stardust", and a taste of Rachmaninoff-like classical piano in the tongue-in-cheek intro to the encore "I Wish You Love". Miner turned in a funky, groove-based solo on "Twisted" and Montalbano explosive drumming stole the show in several spots when his crash cymbal flew off the stand.
Several of the songs were from Monheit's recent CD, "Home" (EmArcy 14700) and she explained that the title represented a return to what makes her most comfortable: singing standards with her own trio. Like Tony Bennett, she is helping keep this music alive, and while her performances are not terribly risky, she is a consummate professional who always "puts on a good show". Hopefully, her interpretive powers will deepen as Bennett's have, and she will continue to delight audiences for years to come.