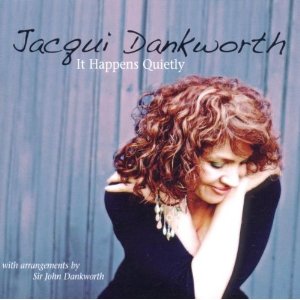 The opening of Jacqui Dankworth's album "It Happens Quietly" is a little eerie. Against the sound of her brother Alec's bass is the voice of their late father, John Dankworth, as he prepares the studio orchestra to start recording "A Nightingale Sang in Berkeley Square". John passed away as this album was being prepared for release, but his arrangements (co-written with Ken Gibson) are an integral part of the album's sound. Although "It Happens Quietly" succeeds as an album of standards, it is also a heartfelt memorial from daughter to father.
Jacqui has a dark-toned sound and her wide range and musical flexibility comes straight from her mother, Cleo Laine. There's also a touch of Barbra Streisand's dramaticism when she goes for a high note, but mostly her influences are integrated into an attractive and exceptionally controlled voice. She has excellent diction and an acute harmonic sense that allows her to navigate through complex arrangements, and she has an innate way of finding the best possible way to interpret a lyric. Her reading of "A Nightingale Sang" offers just the right mixture of mystery and romance which the song demands, and she displays great sensitivity when she departs from the melody. The orchestral format doesn't allow much room for scat singing, but Jacqui has a brief improvisational opportunity over the closing vamp of "In the Still of the Night".
While most of the track list is comprised of familiar standards, the freshly-conceived arrangements and Jacqui's subtle interpretations bring this album above the normal fare. I'm especially fond of the sassy piano vamp that accompanies "Make Someone Happy". Even when the band moves into straight time for the improvised solos, the feel of that vamp permeates the rhythmic style. When Jacqui returns for the final chorus, her subtle back-of-the-beat phrasing adds to the momentum of the band. Her version of Harold Arlen's "Ill Wind" is near-definitive as her halting delivery exposes the wonder and frustration that lies deep in Ted Koehler's lyric.
The orchestra includes several fine soloists, including cellist Ben Davis, saxophonists Tim Garland and Karen Sharp, guitarist Chris Allard and pianist Malcolm Edmonstone. The pianist provides exquisite accompaniment on his duet with Jacqui on "Blame It on My Youth", but the guitar/vocal duo on "The Folks Who Live on the Hill" benefits from astute CD programming. Placed at the end of the album, after "The Man", a song co-composed by John and Jacqui, and featuring solos by John and Alec, the wistful, nostalgic lyrics of "Folks" offers a sentimental view of John and Cleo as they grew old together. Thus, the familial bonds of parents and their children are reinforced with a clever juxtaposition of songs.
This album is presently available only as an import from England, but it is reasonably priced through many UK web outlets, and it is worth the extra effort to get a copy.