"KARLA HARRIS SINGS THE DAVE & IOLA BRUBECK SONGBOOK" (Summit 637)
Shortly before her death, Iola Brubeck sent Karla Harris an out-of-print collection of songs written by her husband Dave. In the notes to "Karla Harris Sings the Dave & Iola Brubeck Songbook", Harris writes that she knew about lyrics written for Paul Desmond's "Take Five", but had largely considered Brubeck an instrumental composer. Yet the book contained lyrics written by Iola and even a few written by Dave himself. Harris and her pianist/arranger Ted Rowe have taken considerable liberties in their settings. For example, "Far More Blue" adapts t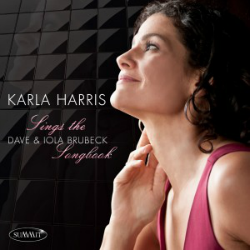 he vamp from "Manteca" into 7/4 time; "In Your Own Sweet Way" features a rubato duet between Harris and bassist Tom Kennedy before the rest of the band enters with a rhythmically shifting background; and the opening theme statement of "The Duke" drops the tune into extended phrase lengths, so that the band vamps build tension between Harris' phrases. Harris possesses a dark husky voice, and it's clear that her influences include an equal amount of soul and jazz singers. However, this works to her benefit, as it allows her to make these songs her own. She makes these seldom-heard lyrics come alive as an actress might, ensuring that the message takes priority over any vocal gymnastics. Harris is also a capable scat singer, although she limits her wordless improvisations to short passages near the end of a few of the tracks. Howe has a delicate touch in his solos, enhancing his single-note lines with surprising rhythmic motives. He provides fine support to Harris throughout (especially on their duet version of "Weep No More"), and his settings leave plenty of room for Harris and the band to shine. Kennedy switches between acoustic and electric bass (and at least in one spot on "My One Bad Habit", it appears that he overdubbed passages on each instrument). While I've heard all of the musicians play straight-ahead jazz, there is a smooth jazz feeling to some of these tracks, and I think most of that comes from the alto saxophone of Bob Sheppard and the drums of Dave Weckl. On "Summer Song", Sheppard audibly switches from a sickly sweet tone to a straight jazz sound, and I wish he have just stuck with the latter. Weckl is a superb drummer, but he seems too prominent in the mix; I've heard him play with much more subtlety than he exhibits here. Still, I admire this album for discovering new approaches to Brubeck's music. The odd time signatures that Brubeck promoted are maintained here and the rhythm is handled with exceptional grace. As with Roseanna Vitro's recent album of Clare Fischer lyrics, Karla Harris' Brubeck album salutes and enhances our appreciation of great jazz masters.
CHRIS McNULTY: "ETERNAL" (Palmetto 2176)
As all of us grow older, we expect that the awful days will come when our parents pass away. Regardless of our feelings towards them, there is a profound shock when losing that closest of family ties. However, when the situation is reversed and the parent outlives the offspring, the sense of loss is far greater. Australian vocalist Chris McNulty lost her son Sam in 2011, and her music has helped her deal with her grief and loss. Her newest CD, "Eternal" is a tribute to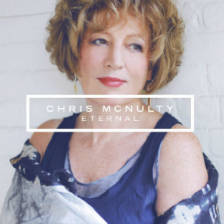 Sam, opening with the Steve Kuhn/Sherrill Craig song "The Saga of Harrison Crabfeathers", whose lyrics seem tailor-made for this album: One life is so short, so many things left to say and do/Crying softly for the one who cannot be here. Sam's spirit is reconstructed through a group of jazz standards like "A Flower is a Lovesome Thing" and "Nature Boy". Here and on a stunning version of "What Are You Doing the Rest of Your Life", the context brings a new richness to the well-known lyrics. The program is enhanced by a remarkable instrumental ensemble arranged and conducted by Steve Newcomb. Utilizing six strings, four woodwinds, jazz soloists Mat Jodrell (flugelhorn) and Paul Bollenback (guitar), and the rhythm section of John Di Martino (piano), Ugonna Okegwo (bass) and Gregory Hutchinson (drums), Newcomb uses his rich sound palette to create backdrops that invoke classical, jazz and classic pop models. This album is so much of a unified whole, it's almost unfair to pick out favorite tracks or solos, but I would remiss if I didn't mention Newcomb's evocative setting of "Stardust" (is McNulty the first singer since Frank Sinatra to sing just the verse to Hoagy Carmichael's ballad?) the resourceful jazz bassoon solo(!) by Ben Wendel on "Lovesome Thing", Ivan Barenboim's glorious clarinet on "Boulevard of Broken Dreams" and Jodrell's sensitive solos and obbligatos on "What Are You Doing" and "Love Came on Stealthy Fingers". Near the end of the album, there is a lovely version of "On a Clear Day" which is set over a medium tempo funk beat, and with this lightening of the general mood, McNulty lets herself sing and improvise with greater freedom than on any earlier spot on the album. And somehow, the theme of survival and continuance, present throughout the album, seems especially strong in the final tracks. In those closing moments, we can tell that McNulty is a true survivor, never forgetting her son, but letting his spirit enrich her experience as a musician and as a human being. Who could ask for a more profound legacy?