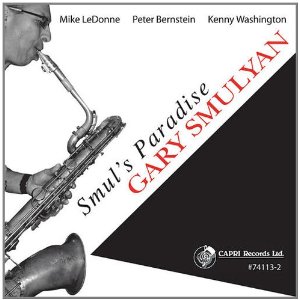 Charlie Parker made only one recording with an organ trio, a 1953 aircheck of "Groovin' High" with the Milt Buckner Trio. It's not a very good pairing: Parker and Buckner seemed to have opposing rhythmic concepts and the quartet fails to find a suitable groove. Had Parker lived into the sixties, when organ trios became immensely popular, he might have tried again with better results. Of course, the traditional organ combo features tenor sax rather than alto, and the lower pitch adds a darker sound to the group. But no one ever said that it had to be a tenor sax, and baritone saxophonist Ronnie Cuber proved that point through several memorable recordings with the combo of Dr. Lonnie Smith. Gary Smulyan, a baritone player with strong musical ties to Parker, has just released his first album with organ trio, "Smul's Paradise", and it is a delightful recording filled with excellent tunes and superb solos.
The album was originally conceived as a tribute to organist Don Patterson, whose style combined the harmonies of hard bop and the rhythms of deep-groove swing. Two of Patterson's originals are included, and one of those tracks, the smartly swinging "Aires" (co-composed by Sonny Stitt) is a highlight of the album. Smulyan's sound can be rough-edged and his swing at fast tempos is stunning, but on the medium-slow tempo of "Aires", he softens the edges and caresses the melody over the velvet-draped chords of Mike LeDonne. I first heard LeDonne as a pianist on an album he made with saxophonist Michael Hashim of songs from "Guys and Dolls" (Full disclosure dept: I wrote the liner notes for that disc). However, he has made quite a reputation as an organist with a long-running gig at the New York club, Smoke. LeDonne has his own unique style, which is based in the subtle, advanced harmonies and styles of Patterson and Larry Young. LeDonne's longtime guitarist at Smoke is Peter Bernstein, and in his solos on the Smulyan album, he plays in a uncluttered, soulful style that is free from clichés. Drummer Kenny Washington plays with great taste and displays a deep appreciation of the style. His finest moment is on the last track, "Heavenly Hours" where he plays a fiery duet with Smulyan's baritone.
The album also includes a spritely jazz waltz version of the old AM radio hit, "Sunny", a rarely heard George Coleman composition "Little Miss Half Steps" and a tune ascribed to organist Rhoda Scott, "Pistachio". Three of the eight tracks were penned by Smulyan, including the previously mentioned "Heavenly Hours" which is an ingenious combination of Harold Arlen's "My Shining Hour" and the Miles Davis/Victor Feldman jazz classic "Seven Steps to Heaven". The entire album was recorded in New Jersey on a single day. It was produced by Thomas Burns, who has a knack for capturing superbly executed straight-ahead jazz, and the liner notes are by the esteemed writer Neil Tesser. Even if organ groups aren't within your normal listening habits, give "Smul's Paradise" a try. It offers a fresh approach to a classic format.