The names of Erroll Garner and Shirley Horn do not usually appear side-by-side in jazz histories. Born a generation apart, there seems to be little to connect these two unique artists. Garner was self-taught and unable (quite possibly unwilling) to read music. Horn was formally trained, and learned about jazz after years of playing the thorough-composed music of Debussy and Rachmaninoff. But in a vintage interview, Horn revealed that Garner was her first jazz inspiration, and that she started learning the jazz language by copying Garner's recordings. There is a further connection, albeit not a direct one: both Garner and Horn created unique styles that were difficult to duplicate. Garner's idiosyncratic approach to rhythm—specifically his lagging left hand—was a trait that a few succeeding pianists could mimic for a few bars, but none could translate into a full-blown style. Similarly, no one but Horn has mastered the art of the ultra-slow intimate ballad. By an odd coincidence, the last few weeks have brought newly released historic recordings by both of these timeless artists.
The Garner disc is titled "Ready, Take One", for the typical announcement recorded before each track by Garner's producer and friend Martha Glaser. Glaser's voice was usually edited out of the final recordings, but for this disc, producers Steve Rosenthal, Peter Lockhart and Geri Allen have left some of the studio chatter intact, preserving some of the amiable interplay between Garner, Glaser and the accompa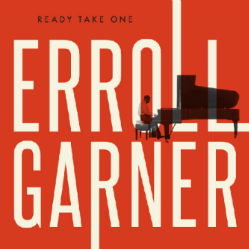 nying musicians. The recordings were made in seven sessions spanning three cities (New York, Chicago and Paris) and four years (1967-1971) with shifting personnel on bass and drums, yet the editing makes it sound like it's all from the same setting. While the opening track, 1971's "High Wire" sounds like an ill-advised attempt to edge in on Ramsey Lewis' turf, most of the music is sparkling, top-flight Garner with the pianist and rhythm section digging deep grooves on each track. As usual, Garner is the only soloist throughout, but his solos contain so many delightful surprises that the listener's attention never wanes. He includes his signature tremolos on tunes as diverse as "I'm Confessin' That I Love You" and "Sunny", and offers an extended introduction on his original blues, "Wild Music" (and in this case, the introduction contains specific references to the theme).  Garner's dismissal of traditional forms comes into play on another original, "Down Wylie Avenue" (erroneously listed in the notes as "Walton Street Blues"). The piece starts as a blues, but takes a sudden turn into "I Got Rhythm" harmony. Try to analyze the composition and it adds up to an unwieldy 44-bar form; listen to the recording and it makes perfect sense. Last year's complete issue of Garner's "Concert by the Sea" featured a remarkable version of "Caravan"; the rendition on the present album takes a different approach but is equally thrilling, with Garner's rhythm team of Ernest McCarty, Jr. (bass), Jimmie Smith (drums) and José Mangual (congas) providing support that is both creative and propulsive. Being a Garner accompanist was usually a difficult and thankless task, but all of the bassists and drummers recorded here do an admirable job (For the record, the other bassists are Ike Isaacs, George Duvivier and Larry Gales; Joe Cocuzzo subs for Smith on one track; Mangual is present throughout). The liner notes (by Robin D.G. Kelley, Dan Morgenstern, Geri Allen and James Doran) provide historical and musical background on Garner, but offer few clues about why this music remained unreleased for so many years. Nonetheless, it's great to have it available now.
Following on the lead of "Sarah Vaughan Live at Rosy's", Horn's "Live at the Four Queens" is another superb performance originally broadcast on public radio. At her live performances, Horn usually commanded absolute quiet in the venue—I remember becoming acutely aware of the sounds of squeaking chairs and the air conditioning system when I heard her at Carnegie Hall—so it's a little unusual to hear her performing in a Las Vegas casino with idle chatter a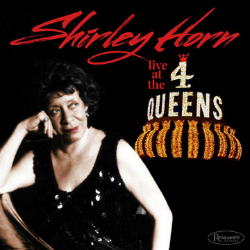 nd slot machines in the background. We don't know how Horn felt about the din (we can take an educated guess!) but she holds her audience's attention even when singing her intimate versions of "Meditation", "Just for a Thrill" and "Lover Man". When this performance was recorded and broadcast in 1988, audiences were just starting to learn about Horn's approach to ballads, but the recordings prove that Horn had already perfected her method of digging out the hidden meanings of lyrics with her understated, personal delivery and an unmatched control of slow tempos. But there was more to Horn's art than just her ballads. Her sexy version of "You'd Be So Nice to Come Home to" is a delight from beginning to end. One can easily imagine Horn singing Cole Porter's lyric with a gleam in her eye, and she creates wondrous subtle variations on the melody in her two-and-a-half chorus vocal. She and her accompanists Charles Ables (electric bass) and Steve Williams (drums) could create captivating swing on medium- and up-tempo numbers. The three instrumental tracks included on this set show Horn's expertise as a pianist (yes, there are occasional allusions to Garner, but they are not very obvious!), and the level of inspiration becomes more and more evident as she improvises through several choruses on "Hi-Fly" and "Isn't It Romantic".  As we've come to expect from Resonance, this album comes with expanded liner notes and an online documentary about the recording. However, this time the project seems much more personal: Zev Feldman writes about hanging out with Horn after concerts, Rusty Hassan tells about living with Horn as a neighbor, and Sheila Jordan describes an out-of-body experience while performing with Horn. Additionally, the video runs over 30 minutes, and includes a highly informative biography of Horn. In all, "Live at the Four Queens" is more than just a rediscovered concert recording; it is an unabashed love letter to the one of the finest performers in jazz history.