Back in the 1980s, Lisa Rich was a rising jazz vocalist who had recorded two impressive albums and had just completed a concert tour of mainland China.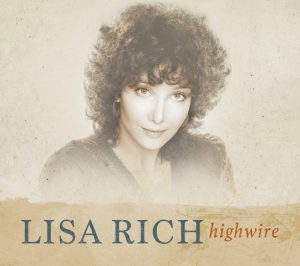 Bassist John Patitucci had played on Rich's second album as a member of the Clare Fischer Orchestra, but was called out midway through the recording sessions to join Chick Corea's trio. Shortly before Rich's trip to China, she heard Corea and Patitucci in Washington, DC, and when she went backstage at Patitiucci's invitation, Corea presented Rich with a folio of original songs, most of which had never been recorded vocally. Rich prepared the music while on tour, and recorded the songs early in 1987. However, an ongoing set of health problems put Rich's career on hold, and the album of Corea songs remained unissued. 32 years later, that album has been remixed and released as "Highwire" (Tritone 2), and it may well stand as Rich's most impressive recording. She lights into the title track—full title, "High Wire, the Aerialist"—with all of the hope and energy embedded in Tony Cohan's lyrics. Corea's melody has a wide range from top note to bottom, but the tune is quite singable, and Rich makes it all sound effortless. On "Contessa", Rich gives every note shape without sacrificing her impeccable diction. Pianist Marc Copland and bassist Drew Gress were just starting their professional careers when they made this recording, but their interplay during Copland's solo on "Contessa" is quite remarkable. Drummer Michael Smith plays with great reserve, never getting in the way of the other players, but contributing well to the ensemble. His understated bop bombs invigorate the complex "Bud Powell", which also features Rich on a challenging set of vocalese-styled lyrics (also by Cohan). The other pianist is David Kane, who accompanies Rich in two duets; the first, a medley of the Ralph Towner/Norma Winstone collaboration "Celeste" and Duke Ellington's "Prelude to a Kiss", and the second, Ornette Coleman's "Lonely Woman". The Ellington is particularly well-sung, with Rich taking advantage of the song's familiarity to add several fine melodic variations. The Coleman is a much greater challenge, as it can be difficult to gauge just how much emotion to include. Rich's rubato interpretation works well, as it allows her to dig into the subtext of Margo Guryan's lyrics while simultaneously wringing the passion from Coleman's haunting melody. Rich gives Loonis McGlohon's ballad "Songbird" a tender, yet earnest reading  (where has this song been hiding?) and adopts an energetic Latin groove for the last of the Corea/Cohan songs, "The Jinn". The lovely standard "We'll Be Together Again" offers further evidence of Rich's masterful way with a love song. Here, some of Copland's advanced harmonies could have thrown a lesser singer off-key, but Rich confidently holds her ground (to be fair, Copland has developed into a much better accompanist). The album closes with a sensitive version of Towner's  "The Silence of a Candle". After years of teaching vocal students, Rich is contemplating a return to performing. She has a new website, this amazing recording, and a forthcoming CD release party. Perhaps she will rise like the aerialist in her album's title track, and pick up her career where she left it three decades ago.
Betty Carter was at an artistic peak in March 1992, when she took the stage of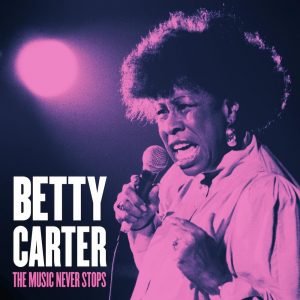 Jazz at Lincoln Center for a career retrospective concert titled "The Music Never Stops". That concert has now been released on CD for the first time (Blue Engine 14) and it serves as an incredible introduction to Carter, as well as a superb summation of her work to that date. Carter assembled a huge performing ensemble for this concert, comprising a big band, a string section (notably all low strings: 4 cellos and 2 basses, a perfect match for Carter's renowned low register), and three rhythm sections—all featuring some of her favorite collaborators including Geri Allen, Cyrus Chestnut, Jerry Dodgion, Lisle Atkinson and Gregory Hutchinson. The complete ensemble apparently remained onstage throughout the concert, as Carter presented a continuous musical program which included many of her finest vehicles. An early highlight is the confessional Carter original, "30 Years" followed by her "question medley" of "Why Him?", "Where or When" and "What's New?" Carter bridges these two pieces with a sung passage which tells us that she loves to sing these pieces back-to-back. The common lyric themes of these songs—written by four separate lyricists—makes the connection clear, and the medley proves that Carter's skill in finding and combining diverse material was one of her greatest—and frequently overlooked—gifts. It should be noted that the above sequence takes over 20 minutes and most of it is in a slow ballad tempo; yet Carter's presence is so engaging that we share the intense focus which Carter brought to this music. She follows this with her best (audio) recording of "Tight", paired with a ridiculously fast version of "Mr. Gentleman", and true to form, she links the two songs with her rapid-fire improvised lyrics. The big band accompanies her on Gigi Gryce's classic arrangements of "Social Call" and (later in the concert) "Frenesi". Anyone who knows Carter's early recordings of these tracks will be happily surprised at the vast changes—large and small—which Carter includes in these live versions. The same can be said of "Moonlight in Vermont", previously recorded in a combo version, but here presented in a fine big band setting arranged by Carter. The 1955 version was a classic, but Carter eclipses it 27 years later with a stunning rendition featuring her flexible rhythmic approach and harmonically astute melodic variations.
The one element missing to this point in the program (46 minutes into the CD) is Carter's brilliant scat singing, but that comes in abundance on a Carter original called "Bridges". Carter opens the song with an extended improvisation over a single chord which expands into a full harmonic solo. True to form, Carter seems to have an endless supply of ideas, and as on her marathon "Sounds (Movin' On)" from the 1979 masterpiece "The Audience with Betty Carter", she improvises over a shifting rhythm background, which keeps the performers and audience engaged in this fascinating performance. Carter shifts gears again for a gorgeous duet with Geri Allen on "If I Should Lose You". Carter was often criticized for paying little attention to the lyrics, but this concert (and this duet in particular) exposes that criticism as a falsehood (It should also be noted that Carter's album-length collaboration with Allen, Dave Holland and Jack DeJohnette took place a year after this concert. If you don't have the CD, get it!) Allen also arranged and conducted a new Carter original for Chestnut and the strings, "Make Him Believe". This may well be the song's first performance, and Carter sings the ballad with overwhelming passion. The CD closes with the big band version of "Frenesi" noted above, taken here at a frantic tempo, and featuring another brilliant scat solo. Carter lived for another six years after this concert, but this concert truly constitutes her victory lap. I don't know why this album was left in the Lincoln Center vaults for three decades, but it is a treasure that will revitalize interest in Betty Carter's music.