CYRILLE AIMÉE: "LIVE" (Mack Avenue 1139)
After five years of touring and recording, vocalist Cyrille Aimée and her combo have amicably parted ways, allowing each of their members the opportunity to explore new musical directions. Before they split up, they recorded "Cyrille Aimée Live", which offers four songs newly added to the band's repertoire, plus re-imagined arrangements of six pieces previously recorded by the group. Not surprisingly, some of the live remakes are dramatically transfor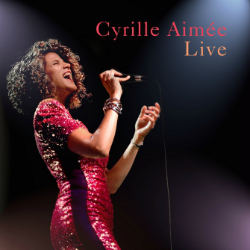 med. For example, Stephen Sondheim's oddly-shaped song, "Live Alone and Like It", is somehow adapted into a jamming tune, featuring an exciting electric guitar solo by Michael Valeanu, and a brilliant scat improvisation by Cyrille. "Nuit Blanche" was once a vehicle for Cyrille and her digital looping console, but is now a solo tune without vocal overdubs. It also includes an extended (and beautifully executed) scat solo. I've heard Cyrille scat at length several times, but this recording includes some of her best efforts at this challenging craft. The looper comes into play on Michael Jackson's "Wanna Be Startin' Somethin'". The audience at New York's Le Poisson Rouge were obviously famjiliar with the original and on cue, they sang the "yeah, yeah" backgrounds on the refrain. After a drum solo by Dani Danot, the band segues into another Jackson song, "Off the Wall". Once Cyrille completes the opening melody, the instrumentalists move into an exotic triple-time feel which adds a new dimension to the composition. Bassist Dylan Shamat displays his rich tone on the unaccompanied intro to "Well, You Needn't". The arrangement of this Thelonious Monk tune is quite unusual, featuring a menacing quarter-note background to the first half, and switching a half-speed funk background at the bridge. Straight-ahead swing appears during Adrien Moignard's acoustic guitar solo, but it alternates with the funk feel. An unusual rippling feel occurs in the midst of Valeanu's ensuing solo. I suspect that Monk would have been enchanted with this creative setting. The album concludes with remakes of "Three Little Words" and "Each Day", the former opened up for a rapid-fire solo by Moignard and exchanges with Danot, and the latter transformed into a solo piece (and thus, much better than the poppish duet that appeared on the studio album) and adding further opportunities for Valeanu and Danot. No matter what roads the members of this band travel in the future, they can be very proud of this final statement.
AMY CERVINI: "NO ONE EVER TELLS YOU" (Anzic 62)
On her last two solo albums, Amy Cervini has explored the music of Blossom Dearie, and combined the seemingly incompatible genres of jazz and country. Those diverse albums (along with her delightful albums as part of the vocal trio Duchess) speak to Cervini's wide musical horizons, but even with that knowledge, her newest release, "No One Ever Tells You" is a genuine surprise. Here, Cervini ex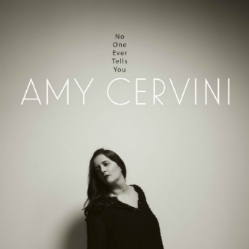 plores songs of heartbreak, sorrow, and redefinition. Many of the songs reflect the blues, either as both musical form or as human emotion. Some of Cervini's earlier influences also creep in, especially with the simple but heartfelt rendition of Lyle Lovett's "God Will" (featuring a clever gender switch) and the inclusion of Dearie's classic "Bye Bye, Country Boy"(with a background that sounds like it was imported from Chicago's South Side). But Cervini is interested in charting new waters for her repertoire. The title tune is a far cry from Frank Sinatra's classic recording, with Cervini wailing over Jesse Lewis' soulful blues guitar. The rhythm section of Michael Cabe (piano), Matt Aronoff (bass) and Jared Schonig (drums) adds to the roadhouse feel by providing a rolling 12/8 backbeat. The album's opener, "I Don't Know" gives us Cervini as a full-out blues belter, with guest Gary Versace offering extra support on Hammond B-3. This album also includes one of the strangest versions of "The Surrey with the Fringe on Top" I've ever heard. The first chorus is presented without any stated ground beat. Cervini sings with little emotion and the overall effect is of time stopping in place. A straight-ahead ballad feel comes in on the second chorus, and Cervini embellishes the melody with inventive variations. Cervini says that the arrangement was designed as a metaphor for slowing down and taking in all of the world's natural scenery.  "Please Be Kind" is presented in straight-ahead swing format, but with the appearance of the Bessie Smith classic, "A Good Man is Hard to Find", we return to the blues format, albeit in a wild mix of country and rock permutations. (Cervini laughs with delight at Lewis' thrash guitar solo!) Bertha Hope's rarely-heard song "You Know Who!" instructs listeners how to rebound after an emotional crisis, and Cervini's interpretation resonates with quiet determination. Cervini and Versace perform "One for My Baby" as a duet, and Versace's whimsical accompaniment adds a light-hearted feel to a song that can easily become maudlin. The album closes with a slow and understated arrangement of "Hit the Road, Jack" which brings out the sorrow implicit in the song's message. It is an odd, but somehow appropriate ending for this unusual yet rewarding album. 
KERI JOHNSRUD: "BEYOND THE NEIGHBORHOOD" (self-released)
With a highly acclaimed documentary now playing in theaters, and several noteworthy television retrospectives in broadcast rotation, the world is re-discovering the work of Mister (Fred) Rogers. Since the gentle friend of children passed away in 2003, several recordings have attempted to place Rogers' original songs into an adult context. I can't say with certainty that Rogers ever intended his songs to be interpreted in this fashion, and none of the cast members or production staff I interviewed could confirm or deny it, but the strength of these songs allow them to work in this manner.  Chicago vocali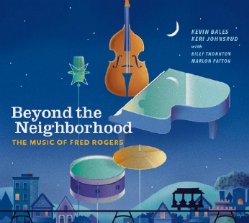 st Keri Johnsrud and pianist Kevin Bales have collaborated on a new recording, "Beyond the Neighborhood" which explores the adult themes of Rogers' lyrics to a deeper degree than ever before. The album opens with a highly abstract instrumental figure which leads into a up-tempo arrangement of "It's You I Like". Johnsrud treats the melody like it was a jazz standard, as she takes great chances with her melodic variations. The abstract figure returns to usher in Bales's dynamic piano solo and a swinging bass chorus by Billy Thornton. And while drummer Marlon Patton does not solo, he follows the quick changes of the arrangement with unerring precision and swing. "Just for Once" becomes a seductive call to a new lover to find a quiet place for a rendezvous. It sounds like a far cry from Rogers' story of two children longing to escape their meddling parents, but not a word of the original lyric is changed. Moreover, it reinforces the idea that the need for escape does not disappear when children become adults. Johnsrud and Bales have not betrayed these songs; indeed, they have enriched them. "I Like to Take My Time" works especially well in their deliberate but propulsive slow tempo; this tempo would have been too slow for the TV show, but grown-ups will appreciate the connection between tempo and lyrics. Depending on when listeners watched "Mister Rogers' Neighborhood", some of the songs presented here may not be familiar. As a viewer of the earliest years of the show (1968-70) I didn't know "Find a Star", "When the Day Turns into Night" or "Troll Talk". With an album like this, such ignorance may be a benefit as it leaves us without preconceived notions. We can appreciate the musicianship of this fine ensemble in the same way as if they were performing their own original compositions. Throughout the album, Johnsrud sings the lyrics with great conviction, and she displays a deep knowledge of jazz interpretation. This rhythm section is a highly cohesive unit, performing exceptionally well as a group, and all three members are exceptional soloists. After seeing "Won't You Be My Neighbor" at a local theater, my friend commented that she wanted to check out the Mister Rogers Songbook. This album might be the hippest way to explore that treasure trove.
ALLEGRA LEVY: "LOOKING AT THE MOON" (SteepleChase 31852)
On her latest CD, "Looking at the Moon", Allegra Levy changes her focus from intensely personal originals to a conceptually related program of moon-related standards. In the liner notes, she tells Neil Tesser that many of these songs have part of her life for years. Her mother sang Cat Stevens' "Moon Shadow" to her as a lullaby, a big band arrangement of "Moon River" was the subject of her college thesis, and the first song she sang on stage was "How High the Moon". The album features a drummer-less rhythm section, and that brings out the int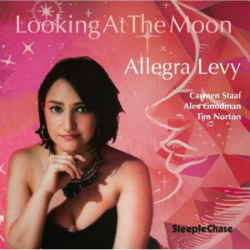 imacy in Levy's voice. The opening "Moon River" includes a gentle harp-like pattern from Alex Goodman's guitar, and Levy sings the song with the same delicate sensibility as Audrey Hepburn in "Breakfast at Tiffany's". Levy adds airy melodic variations and a little scat at the end of Irving Berlin's "I've Got the Sun in the Morning (and the Moon at Night)", while the atmospheric setting of Neil Young's "Harvest Moon" displays both Levy's outstanding vocal control and Tim Norton's highly melodic bass. Norton plays a sassy ostinato line on a delightful reading of "Blue Moon" which also features a funky piano solo by Levy's longtime accompanist, Carmen Staaf. The deep musical chemistry between Levy and Staaf can be heard in a superb chorus of improvised exchanges on Artie Shaw's "Moon Ray". However, the album's highlight might be the Levy/Goodman duet on "Moonlight in Vermont". Here, Levy shows her skill at delivering a lyric, using a sophisticated sense of dynamics and  several audacious melodic variations. And while Levy's version of Cat Stevens' "Moon Shadow" is significantly different from the original, she can work within the tradition too, as evidenced by her straight-ahead version of the swing era classic "Moonglow". For those who had lost all hope for an over-performed warhorse like "Polka Dots and Moonbeams", Levy reacquaints us with the tenderness of the original lyric. She introduces a spooky quality to her rendition of "No Moon at All" with her dark vocal tone and a menacing accompaniment. "It's Only a Paper Moon" juxtaposes an angular figure in the rhythm with Levy's seemingly unperturbed sunny vocal. Levy presents a full-length (and exquisitely sung) scat solo, and Staaf challenges herself by soloing against the angular motive from the introduction. Another fine wordless improvisation appears on Nick Drake's "Pink Moon", performed as a duet with Norton. The program ends with a breezy take on "I'll Be Seeing You" (the penultimate line of the lyric gave the album its title). Allegra Levy's next move might be unknown to us, but her current recording is a well-executed leap into fresh repertoire. Like the other vocalists in this survey, she has triumphed at the point of an artistic crossroad.