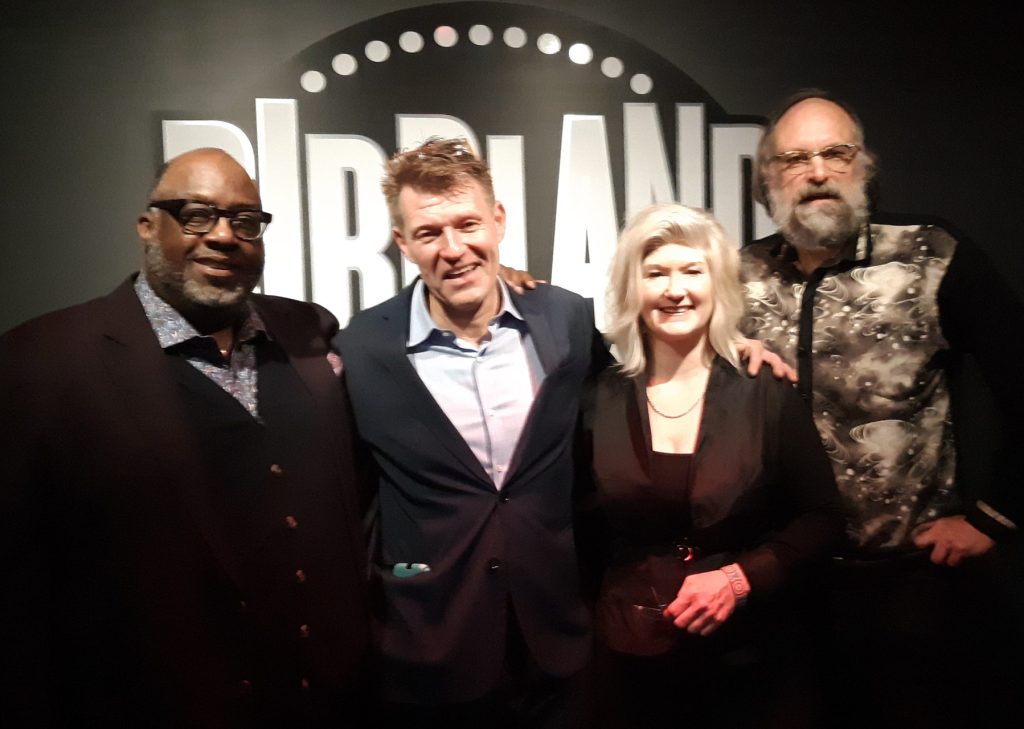 ARTIST: Dena DeRose Trio with Scott Robinson
VENUE: Birdland Theatre; New York City
DATE: February 25, 2023
PERSONNEL: Dena DeRose (p,v); Martin Wind (b); Carl Allen (d) with guest artist Scott Robinson (ts,tp).
It was a vocal double-header at Birdland last weekend, featuring two beloved singers with significantly different styles. In the downstairs theatre, Dena DeRose performed a powerfully swinging set of tunes drawn from several recent albums, while in the upstairs club, Jane Monheit stunned the audience with virtuosic treatments of American and Brazilian standards.
There was a new face in DeRose's trio: drummer Carl Allen subbed for Matt Wilson, who was presumably gigging elsewhere. Wilson's profound humor and endless creativity inspired the group in the past, but Allen's muscular style deepened the group's swing and provided a catalyst for DeRose's rhythmically complex piano solos. After the trio grooved in with "A Beautiful Friendship", DeRose introduced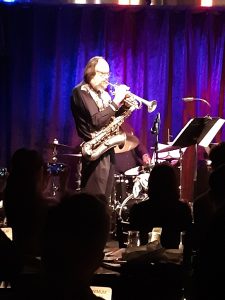 the evening's guest soloist, Scott Robinson. While Robinson is well-known as a multi-instrumentalist (see review below), during his appearance with DeRose he focused on tenor sax, adding trumpet on one number. His straight-forward solo lines on "You Stepped Out of a Dream" were an effective contrast to DeRose's against-the-grain rhythms, with Allen changing up his accompaniment to suit each soloist. Cedar Walton's original "Clockwise" featured a new lyric by DeRose over a thorny chord progression. In their solos, DeRose and Robinson worked through the harmonic maze with ingenious developments of melodic patterns. When DeRose appeared at Birdland last year, she premiered an original titled "Hold Fast to Dreams" based on a Langston Hughes poem. The piece ran for about eight minutes then, and it has nearly doubled in length in the past year. Wind's rich arco bass carried the slow opening section, and when the tempo jumped to medium, Wind momentarily started playing the incorrect section. The mistake was corrected quickly enough with an extra chorus of the melody by Robinson, followed by DeRose's heartfelt vocal chorus. The piece will be recorded in the fall, and it will be interesting to hear the structure of this piece in its final form. DeRose paid tribute to Billy Strayhorn with a touching version of "Lotus Blossom" and to Bob Dorough with performances of "Nothing Like You" and "Small Day Tomorrow". Allen's solo drums kicked off a romping version of "Day In, Day Out" with all of the soloists riding the shifting moods of the song form. The set closer, "The Great City", had a rocking swing that can be felt across the room.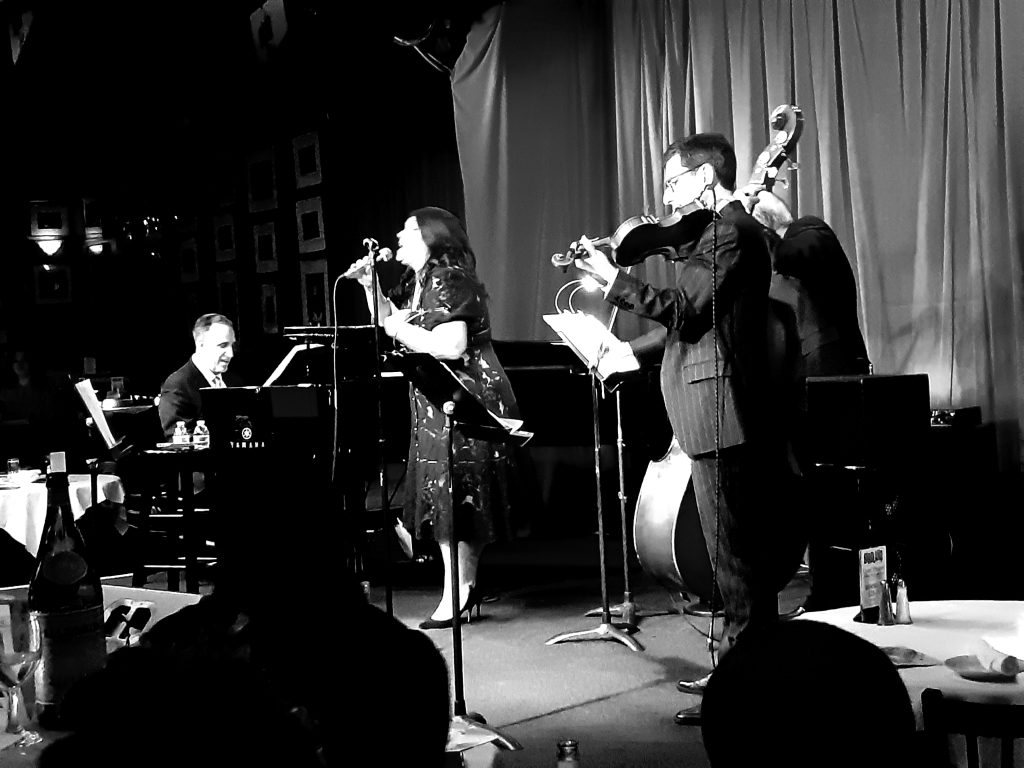 ARTIST: Jane Monheit
VENUE: Birdland; New York City
DATE: February 25, 2023
PERSONNEL: Jane Monheit (v); Aaron Weinstein (vln); Michael Kanan (p); Jay Leonhart (b,v).
Jane Monheit has reached that pivotal stage where her voice can do anything she wants. Her range is spectacular and her vocal tone retains the clarity that was present in her earliest recordings. Working with only three instrumentalists (and surprisingly, no drummer), her late set at Birdland offered a dazzling array of stunning melodic variations and astute scat singing. She told the audience that she was between album projects, and that seemed to offer an insight into her performance. To my ears, Monheit may be in a transition period as she moves closer to a late Sarah Vaughan style, where the interpretations take precedence over the original material. Throughout most of the set, her thematic statements were loaded with melismas, which can be frustrating for listeners wanting to hear the lyrics but rewarding for those who focused on the variations. Even when Monheit focused on words, as in her Portuguese rendition of "Chega de Saudade" ("No More Blues") the language was extremely stylized with severe distortion of the vowels. On another Jobim classic, "Wave" she handled the song's wide-ranging melody with ease, and her improvisation included notes both higher and lower than the original composition. There were three entries from the Rodgers and Hart songbook included in the setlist, but while Monheit took out most of the vocal filigree in "It Never Entered My Mind", she replaced it with over-wrought emotion, turning the mood of Lorenz Hart's lyric from reflective to maudlin. (To be fair, Monheit is usually much better at handling this balance: listen to this recent version of "My Funny Valentine"). Turning to her instrumentalists, Aaron Weinstein was the featured soloist on most of the songs, and his statements were filled with fine melodic ideas and a rich (and varied) tone. Michael Kanan was a supreme accompanist, offering both outstanding support to Monheit and a few well-conceived solos. The always-dependable Jay Leonhart anchored the time and harmony from beginning to end, and near the conclusion of the set, he sang a charming duet with Monheit on the hopelessly dorky tune, "Tonight You Belong to Me". If Monheit is indeed in a transition period, it will be interesting to see how her artistic direction shifts in the coming months. That version of "Valentine" cited above might point her in the eventual direction. I didn't hear any full performances in her Birdland set as refined as "Valentine", but there were many great moments within the music.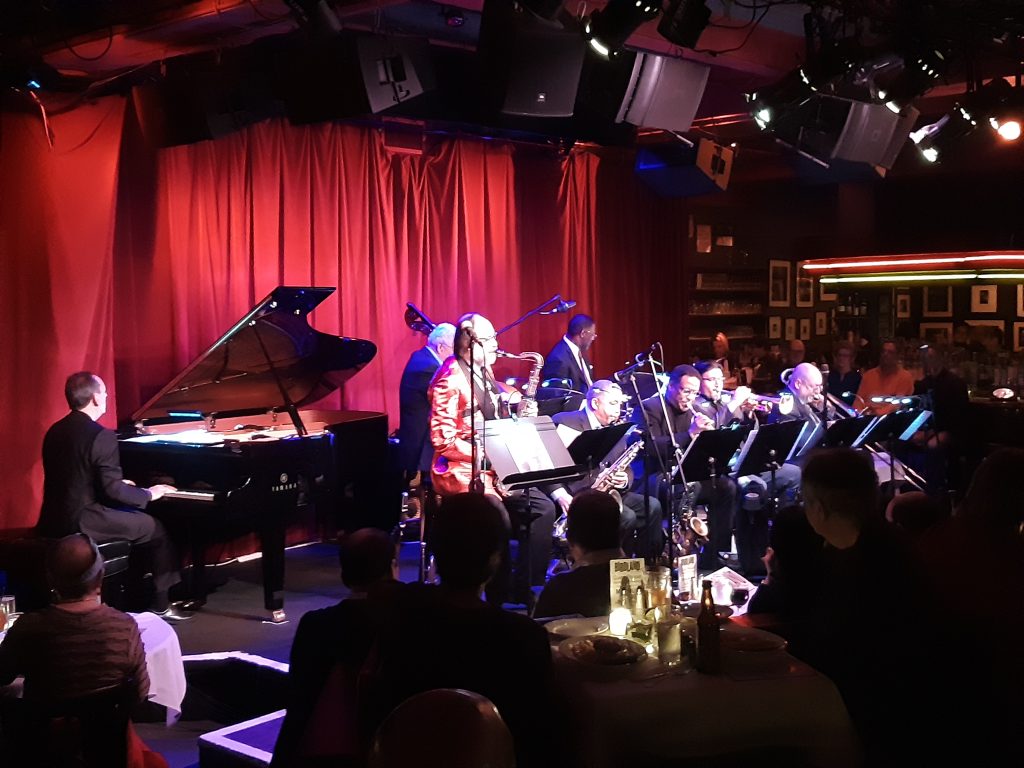 Scott Robinson Octet at Birdland; January 28, 2023. Photo by Thomas Cunniffe.
ARTIST: Scott Robinson Octet (Frank Wess Birthday Tribute)
VENUE: Birdland; New York City
DATE: January 28, 2023
PERSONNEL: Frank Greene, Michael Rodriguez (tp); Steve Davis (tb); Bill Easley (as,ts,fl); Scott Robinson (ts, alto cl, bs, fl, bass fl, cornet); Michael Weiss (p); Rufus Reid (b); Dennis Mackrel (d).
Back in the early 1990s, Frank Wess told Scott Robinson, "we should put together a band". The resulting group of eight players featured two trumpets, trombone, two saxophones (Wess and Robinson), and rhythm section. During its run, the group featured many of New York's finest musicians—the original trumpeters were Cecil Bridgewater and Greg Gisbert!—and they recorded three albums, two under Wess' name, and the other as backup for vocalist Carol Sloane. In celebration of Wess' 101st birthday, Robinson re-assembled the band with a combination of veterans from the original group and representatives of the younger generation. I caught them at the end of a very successful run at Birdland, with the packed house including vocalist Catherine Russell, and Wess' widow. The stellar rhythm section of Michael Weiss, Rufus Reid, and Dennis Mackrel provided a solid foundation for the tight and swinging horn section. The legendary saxophonist Bill Easley came up to New York from his home in North Carolina, and while he admitted to a few nervous moments, he was in top form on flute, alto, and tenor saxes. Of course, no one can top Robinson in the realm of multi-instrumentalists. Playing six different horns (!) he was a complete virtuoso, sometimes switching between horns in the middle of a solo. (After the set, I told him, "Scott, didn't your teacher ever tell you that you can't switch from saxophone to trumpet like that?" Robinson just laughed it off.) On Wess' chart on "Sweet and Lovely", Robinson made an impromptu change by adding an extra solo chorus. Not only did this adjustment allow Robinson to solo on Wess' own bass flute, but it also led to a delightful flute duet between Easley and Robinson. On the closing number, Mackrel's burning original "Backfire", Robinson engaged his musicians twice over with a brilliant set of harmony-stretching exchanges with Michael Rodriguez, followed by a thrilling chase with Mackrel. Overall, the ensemble was particularly well-rehearsed, playing these difficult charts with great precision. Perhaps it's time for Robinson to make another octet recording!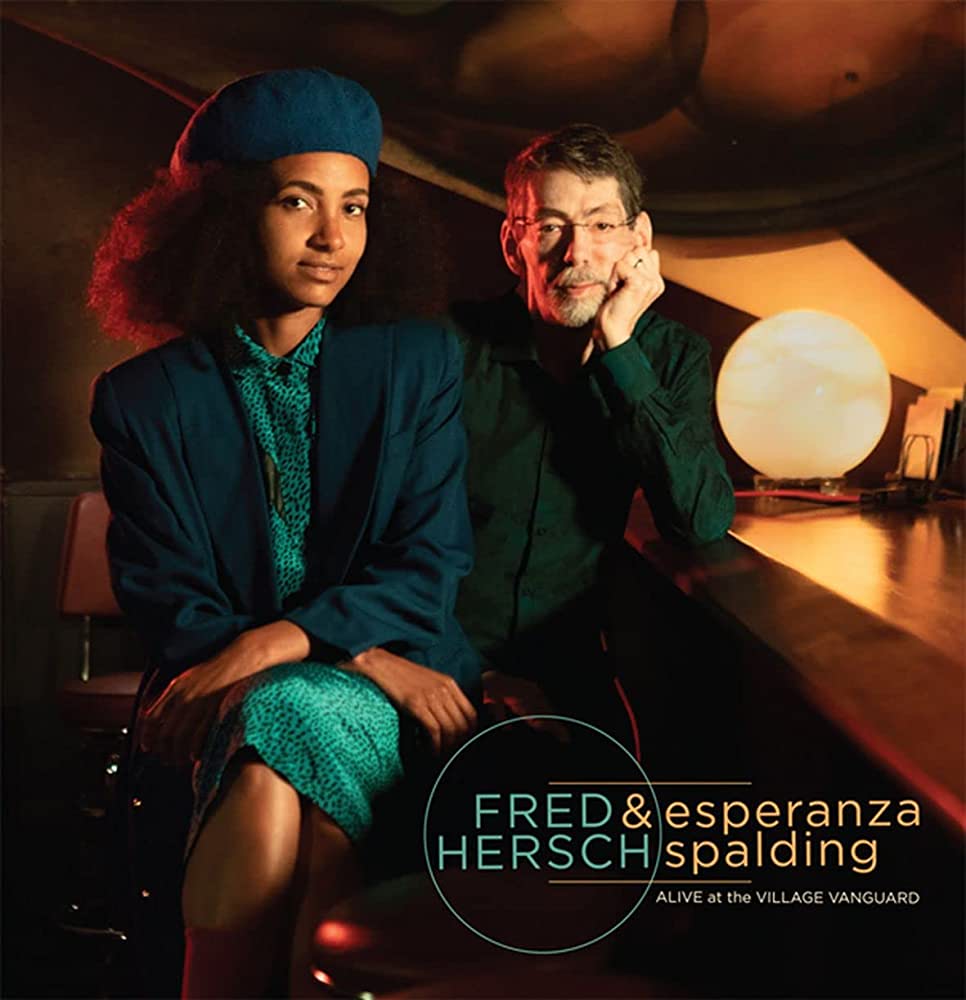 ARTIST: Fred Hersch and esperanza spalding
VENUE: NJPAC; Newark, NJ
DATE: January 29, 2023
PERSONNEL: Fred Hersch (p); esperanza spalding (v).
There is nothing terribly unusual about mounting a live tour to support a newly-released album. That is, except when the album was recorded five years earlier—and just for fun, with a pandemic in the interim. However, the music found on the album, "Alive at the Village Vanguard" (Palmetto 2208) contains many stunning innovations, and a comparison of the 2018 recording with the 2023 live tour shows how these relentlessly creative musicians have developed the various concepts. I attended a matinee performance which started promptly at 3:00 pm. There was no room for being late (fashionably or otherwise) despite train delays into Newark, and a long line of concertgoers for two separate performances at NJPAC. As I rushed into the auditorium, Hersch and spalding had taken their places onstage, and had lit into the opener, Thelonious Monk's "Evidence". Monk's sparse melody now had lyrics, but they didn't match with one syllable to one note. The reason became obvious as spalding began to improvise…with words! She commented in song about how the theatre was only half-full when they came onstage, but was now nearly full, and how comic it was to watch us climbing over one another to claim our seats. The lyrics were about taking a journey, which may have just been a reference to the audience's trip from the lobby to the auditorium! On the CD, the lyrics are not there (possibly not written yet) leaving spalding to scat with great flexibility. Hersch, who usually accompanies great vocalists in a rhapsodic fashion, takes a new approach with spalding as he keeps his foot off the sustain pedal, and plays in an inquisitive staccato style. In 2018, he played counterpoint with his hands at the extreme ends of the keyboard; he stayed away from that method in 2023, but maintained the brittle accompaniment. In many cases, the thematic concepts of spalding's stream-of-conscious narratives were set by the time of the original recording (with spalding always free to change her words and melodies). Certainly, the bird calls in Egberto Gismonti's "Loro" were set up in advance, as was spalding's unique approach to the troublesome song, "Girl Talk". Positing that actual conversations between women are actually a form of secret code, spalding's improvisations on the CD include two realistic (and quite funny) conversations—with explanations—as proof of her theory. This song, long rejected for its misogynistic lyrics, is completely transformed by spalding's rendition. I cannot recommend this live program enough. It is a joyous 75-minute exploration that will astound and delight audiences of all ages. The CD captures much of that creative energy, but Palmetto should record this group again at the end of the tour. I'm sure that the differences will be significant.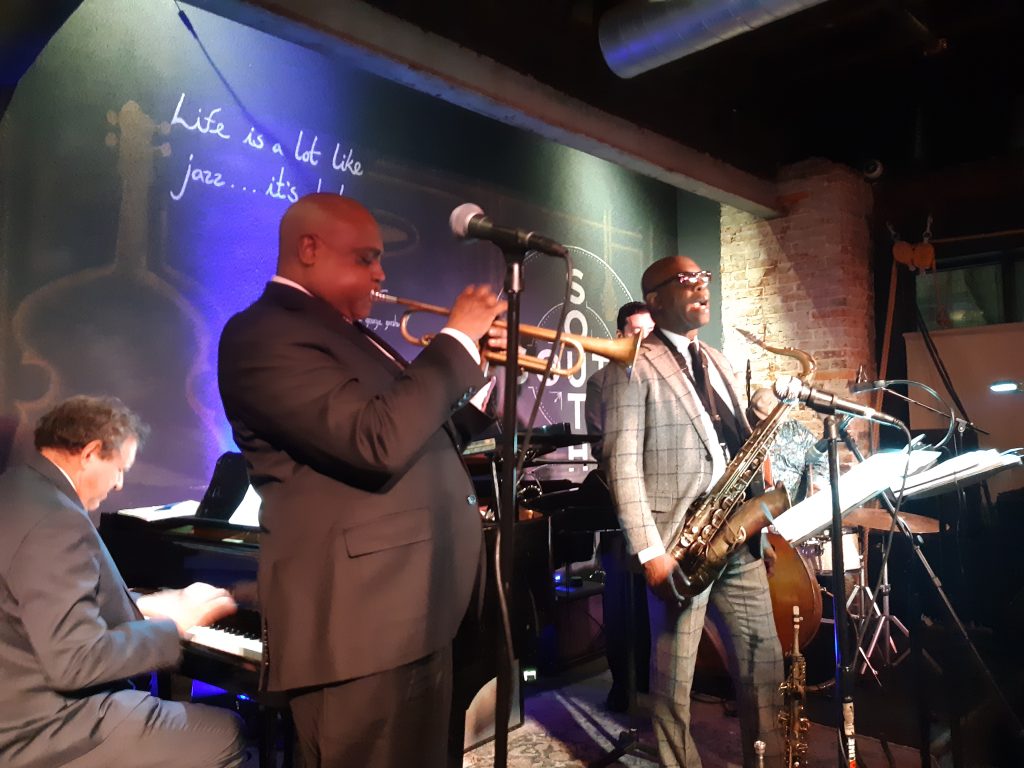 ARTIST: Terell Stafford Quintet
VENUE: South; Philadelphia
DATE: February 4, 2023
PERSONNEL: Terell Stafford (tp, fgl); Tim Warfield (ts, ss); Bruce Barth (p); David Wong (b); Johnathan Blake (d).
Terell Stafford has strong personal relationships with the members of his quintet. The two younger members of the group, David Wong and Johnathan Blake, were mentored by Stafford while they were attending school in Philadelphia. The group's elder members, Tim Warfield and Bruce Barth, teach alongside Stafford at the city's Temple University. While everyone in the group travels extensively for gigs, there is true unity when the Stafford Quintet assembles for a gig in Philly. That was especially true last Saturday night when the group played to a full house at South Jazz Cafe. City spirit is very high at the moment with the Philadelphia Eagles poised to play in the Super Bowl, and the musicians channeled the energy of the audience into an extraordinary opening set. The music started with the title composition from the quintet's forthcoming album, "Between Two Worlds" and Stafford staked his ground in his first solo with brilliant forays into the high register and a slashing attack that obliterated expectations of traditional phrase lengths. Warfield is the perfect foil to the trumpet with his meticulous development of melodic patterns and innate sense of drama. When it was his time to solo, Barth leaned into the keyboard, producing a volume of sound equal to a Hammond B-3. Later in the set, Wong displayed a nimble-fingered approach to solo lines, which was a unique contrast to his strong walking patterns. Meanwhile, Johnathan Blake showed that he was as capable of driving the energy for this combo as he is when working with the Maria Schneider Orchestra. All of the music reflected personal connections with the leader. "Worlds" was dedicated to drummer Victor Lewis (presently in failing health) and the closer "Mi a Mia" was composed for Stafford's 6-year-old daughter. A classic hymn tune "Great is Our Faithfulness" became a memorial to a fallen Philadelphia giant, Joey de Francesco, and a beautiful quartet reading of "You Taught My Heart to Sing" was a tribute to its composer (and former Stafford employer) McCoy Tyner. The high point of the set came in the exact middle, with a slow blues written for Stafford's mother, "Ruth's Blues". Warfield wisely took the first solo (certainly with some knowledge of Stafford's approach). Warfield's improv was impressive and soulful, but the ensuing trumpet solo made everyone forget all that had come before. He started out at a comfortable range and volume, but as the emotions churned inside him, his music became more and more intense, moving higher up the horn and taking greater risks. And like another great trumpeter, Roy Eldridge, Stafford would not let go, as each chorus lifted him to new artistic heights. When he finished his statement. the audience leaped to their feet, showing that they had been beside Stafford for the entire journey. As I told Stafford after the set, I have heard him play many times before, but never at the level that I had just heard. Stafford, a quiet man in real life, smiled and thanked me. Then he went out into the frigid cold for a quick appointment with his massage therapist to work out a stiff part of his back.