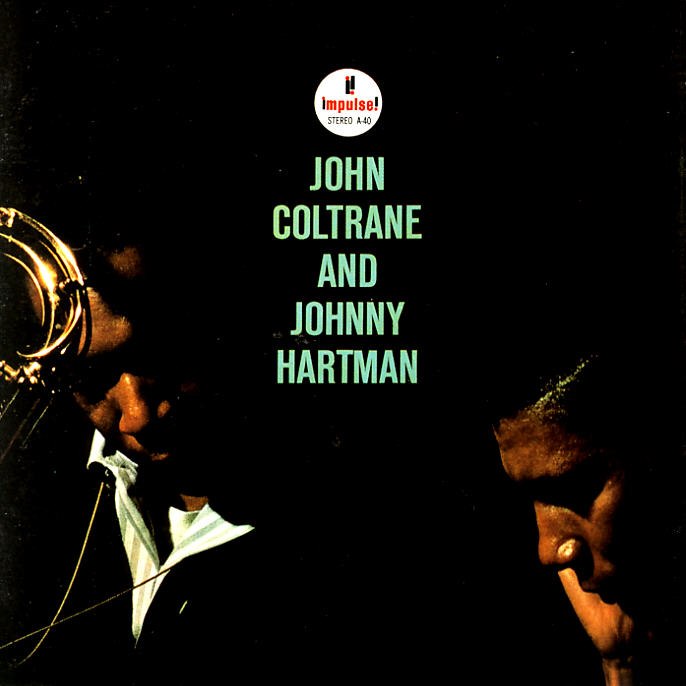 There's something special about hearing a piece of music for the first time. Between my high school graduation and my entrance into college, I spent nearly five years learning about music on my own. I listened to every piece of jazz or classical music I could find, and read about the artists in books and magazines. There were many new musical discoveries for me in those years, but my fondest memories came from the albums I discovered through friends. Somehow, the excellence of the music was enhanced by my personal memories of discovery. Like many young listeners, I struggled with the music of John Coltrane. Greg Heimbecker, a passionate Coltrane fan, invited me to his house, and played several recordings for me, including the 1962 classic "Ballads". I found that album very accessible—not easy listening, but less intense than Coltrane's usual output. About an hour later, with an armful of Greg's albums loaned to me for study and taping, I was getting ready to leave. Then Greg mentioned "John Coltrane and Johnny Hartman". When I told him that I didn't know that album, Greg—normally a very laid-back guy—said sternly, "SIT DOWN! You are not leaving this house until you hear this album!" So I sat down—and listened to 30 minutes of the most beautiful music I'd ever heard.
First there was Hartman's voice, a warm rich baritone that enveloped the lyrics. And what tenderness and vulnerability he brought as he almost sighed through the line "They say that falling in love is wonderful." Later, there was the resignation implied in his reading of "You Are Too Beautiful" and the warmth of "My One and Only Love" where there was hardly a difference between Coltrane's tenor sax and Hartman's voice. "Lush Life" was a special treat—a song mistreated by vocalists over the years, which here received a simple and definitive reading. Listen to how Hartman sings the word rot: a slight emphasis and a little silence to follow—just enough to let the word carry its meaning. Hartman didn't sing these ballads completely straight, but when he did vary the melody, it was quite stunning, as on his exquisite paraphrase at the opening of his chorus on "Dedicated To You". Hartman also made a few changes to the lyrics: the order of stanzas on "They Say It's Wonderful" are juggled, and despite Hartman's exquisite diction, I'm not sure that on "Lush Life", he sings the French word distingué rather than the Americanized distant gay traces. But these are minor points when weighed against the overall elegance of this album.
Coltrane's quartet plays beautifully throughout. Compared to the thundering work he played on Trane's other 1963 recordings, Elvin Jones' brushwork is both delicate and subtle. Jimmy Garrison's bass lines dance along without losing their supportive role, and McCoy Tyner shows great restraint in his accompaniments, and contributes a delightful solo on "You Are Too Beautiful". As for Coltrane, he plays touching obbigatos to the singer (some overdubbed onto the master tapes) and plays solos on "Lush Life" and "Autumn Serenade" that are in the same restrained mold as on "Ballads". Yet, I think that the greatest part of this album is the total effect—a long-standing working jazz quartet that played together so well that they could make an effective (albeit temporary) change in their style to produce an extraordinary collaboration with an under-appreciated vocalist. Hartman benefited more from this album than Trane, but it's significant that he never made a better album than this one, even when working with superb musicians like Hank Jones and Illinois Jacquet.
Both "Ballads" and the Coltrane/Hartman album have been revisited in recent years. Karrin Allyson recorded a lovely remake of the "Ballads" album for Concord, and a few years later, Kurt Elling's superb tribute album "Dedicated to You" included all of the songs from both albums, in arrangements featuring tenor saxophonist Ernie Watts, the ETHEL String Quartet and Elling's trio. This year has seen the release of a ghastly remake by the smooth jazz saxophonist Kurt Whalum and his vocalist brother Kevin. I'm a little more hopeful about the ongoing concerts where McCoy Tyner and José James perform the Coltrane/Hartman repertoire. James has recorded "Lush Life" in a duet setting for Impulse, and while his voice is not as rich as Hartman's—whose could be?—he shows an innate ability for understatement and musicality. In re-examining this music, Tyner and James may discover the same alchemy that Coltrane and Hartman found on a spring day nearly 50 years ago.