ARTEMIS: "IN REAL TIME" (Blue Note 36950)
Supergroups tend to have short life spans. Once an all-star lineup is announced, the star power generates audiences for a tour, but as the musicians play together night after night, internal conflicts pop up, and the group disbands when they come home. Artemis, the all-female supergroup led by pianist/music director Renee Rosnes, has defied expectations. Now in its 6th year, the group has just released their second album, "In Real Time", performed all over the world, and even survived a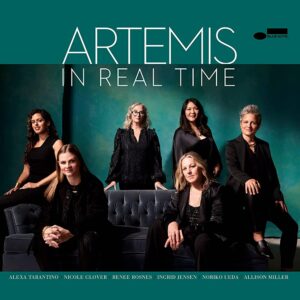 few key personnel changes. One of the key reasons for Artemis' success is that the musicians regard it as an ensemble. This quality is evident with their first (eponymous) CD, in live performances, and throughout the new disc. The opening track, Lyle Mays' "Slink" illustrates the group's dedication to playing as a group and mastering intricate arrangements. It starts with a serpentine line in Rosnes' piano and Noriko Ueda's bass, and is taken up by Nicole Glover's tenor, Ingrid Jensen's muted trumpet, Alexa Tarantino's flute, and Rosnes' wordless vocal before Allison Miller adds a pulsating beat from her drum kit. The dynamics remain understated, as they usher in Rosnes for the opening solo, and the horns add a chorale background to the improvisation. Jenson's trumpet solo becomes the natural climax of the performance, with Ueda providing great commentary on Jenson's solo, and the trumpeter overdubbing a second improvised line at the end of the chorus. Miller adds her own improvisation over an understated out-chorus. Miller's energetic original "Bow and Arrow" offers fine solo opportunities for Jenson and Glover, with Miller's dense solo again incorporated into the arrangement. The theme of Rosnes' dramatic ballad "Balance of Time" is self-contained, as it makes a complete statement and then comes to a full stop before going into the piano and trumpet solos. Tarantino leads the horn section on soprano saxophone in the recapitulation, and the rhythm section closes the track with a quiet (and highly effective) coda. Ueda's "Lights Away from Home" features a superb soprano solo by Tarantino, and a contrasting (but complimentary) improvisation from Glover, before the composer takes a brief, melodic solo. The chemistry between the two saxes has developed even further since this recording, with their compatible styles merging particularly well when they performed this piece at last month's Princeton Jazz Festival. Ueda's compositional chops are also impressive and I hope that more of her tunes enter the Artemis repertoire. Jenson is well-known as a composer of course, and her piece "Timber" is loaded with great moments, including the composer's digeridoo-like pedal tones in the intro, Rosnes' tasty solo on Rhodes, and the short, meaningful solos by the horns. Tarantino's "Whirlwind" opens with a floating melody in the horns over the rhythm section's free-time improvisation. It settles into a waltz groove with fine interaction between the composer's flute and the rhythm section. Glover slowly builds the intensity in her solo, and Rosnes follows with a tremendous statement supported by the horns. Ueda asserts herself with a strong solo before the condensed finale. Miller plays a crucial role on Rosnes' "Empress Afternoon", doubling the melody's rhythms, maintaining buoyant energy throughout the solo section, and capping the track with another exciting solo. The finale is a tribute to the late Wayne Shorter, with Jenson evoking Miles Davis before the theme of "Penelope". The saxes provide a lush cushion around Jenson's Harmon-muted trumpet, and Glover echoes Shorter's exploratory style as she solos over an increasingly restless rhythm section. Artemis stands as one of the best bands working in jazz today (regardless of gender or race). Treasure their work both on CD and at their concerts.
SARA CASWELL: "THE WAY TO YOU" (Anzic 85)
Violinist Sara Caswell is in constant demand as a soloist and concertmaster, but it's been far too long since she graced the music world with an album under her own name. "The Way to You" is the title of that long-overdue release, and Caswell has taken great care to create a program that will encourage repeat listening. On the first track, Nadje Noordhuis' "South Shore", the quintet mixes several unique sounds,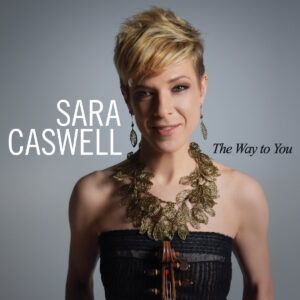 with Caswell's rich violin tone soaring over the staccato guitar of Jesse Lewis, the glowing vibes of Chris Dingman, the sturdy bass of Ike Sturm, and the crisp percussion of Jared Schonig. Caswell plays an emotionally overwhelming solo on Sturm's folkish original "Stillness", and the crescendo of activity between bass and drums during the second half of the tune threatens to disturb the mood established by the title. "7 Anéis", composed by Egberto Gismonti, is just irresistible with a recurring dance beat, a fine episode featuring acoustic guitar, a passionate and virtuosic solo by Caswell, and a thrilling in-time drum solo at the end. Michel Legrand's ballad "On My Way to You" is powerful even without the lyrics by Alan and Marilyn Bergman, and Caswell pours her heart into every note. Lewis' ensuing solo echoes and amplifies Caswell's theme, and the closing violin solo lifts and expands the performance's emotional palette. Kenny Barron's "Voyage" is a vehicle for straight-ahead playing, and Caswell's choruses overflow with splendid ideas. Dingman and Lewis continue by exchanging and combining improvised thoughts over Schonig's thundering drums. After a recap of the melody, Schonig closes the track with a solo over a repeating vamp. "Warren's Way" is the first of three Caswell compositions on the disc, and it opens with an unaccompanied violin fantasia. Caswell plays her waltz theme in the dark lower registers of her violin, and after Sturm's bass solo, she contrasts the theme with a soaring improvisation in the high register. "Last Call" is a loose funky piece (co-written with Dave Stryker) that breaks down any preconceived notions of what this band can play! After Lewis' impressive electric blues guitar solo, Caswell makes her violin wail like a forlorn alley cat. "Spinning" is the exact opposite thematically with a beautifully-crafted melody of symmetric phrases. Caswell creates another contrast in her solo with a series of improvised motives phrased against the beat. After Dingman's solo, Caswell's second improvisation airs out the ideas, while retaining the cross-phrasing. Schonig supports the solo with a powerful rhythmic underlay. The album closes with a rare gem by Tom Jobim, "O Que Tinha de Ser", spotlighting Caswell's singing tone on the Hardanger d'amore. Lewis plays the opening chorus in duet with Caswell, and Sturm provides subtle but solid accompaniment on bass. Sara Caswell is a unique and rare talent. With luck, we may get a sequel to this album in relatively short order.
CHAMPIAN FULTON: "MEET ME AT BIRDLAND" (Champian 5)
While many of the musicians in her generation focus on new sounds and directions, pianist/vocalist Champian Fulton has developed a large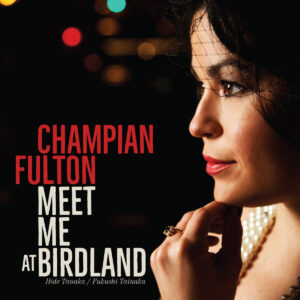 following by exploring the past. Her latest CD, "Meet Me at Birdland" captures Fulton at one of her favorite New York nightspots, charming the audience with a varied program of well-known standards, neglected songs, and swinging originals. A tangy interpretation of "Too Marvelous for Words" with sassy vocals and homages to Erroll Garner and Oscar Peterson segues into a tender version of "Every Now and Then", a song memorably sung by Helen Humes on a late-career album. Fulton remains in the Basie camp for an old Jimmy Rushing specialty, "Evenin'" and caps the tribute with Phineas Newborn's "Theme for Basie". In addition to being an excellent piano soloist, Fulton is an outstanding self-accompanist. The recording levels put the piano and vocals on equal ground, which emphasizes the little motives she plays between phrases as well as the countermelodies she devises to support her vocals. The other members of her band, bassist Hide Tanaka and drummer Fukushi Tainaka, provide tightly swinging support, and with the exception of their occasional solo turns, they keep their contributions subtle to maintain the audience's focus on Fulton. On her minor-key original, "Happy Camper", Fulton's stunning solo is filled with fresh ideas and executed with awesome precision. Tainaka taps into the burgeoning Latin groove with a thrilling solo that pays tribute to Art Blakey. Fulton's wistful vocal on "Just Friends" starts and ends as a reflective waltz but moves into a strutting swing for the central half-chorus. This allows her to adapt the lyric into a new story moving from quiet reflection through bold confidence to gentle nostalgia. She has a great time gliding through the luxurious Gershwin standard, "I've Got a Crush on You", and here—as on the tune that precedes it, "I Didn't Mean a Word I Said"—she creates dramatic solos from extended single-line melodies. After a delightful instrumental on Ray Bryant's "I Don't Care", Fulton tops herself with an outstanding rendition of "Spring Can Really Hang You Up the Most". She finds a fresh way to navigate these well-traveled waters while reminding us of the song's bittersweet sentiments. The CD closes with a sprightly version of "I Only Have Eyes for You" and a bluesy rendition of "It's Been a Long, Long Time". With her wide-ranging repertoire and her engaging vocal and instrumental personas, Champian Fulton is playing an important role in the preservation of classic, swinging jazz.
JO LAWRY/LINDA MAY HAN OH/ALLISON MILLER: "ACROBATS" (Whirlwind 4798)
As we've all read many times, jazz is all about taking chances. With that being said (again), vocalist Jo Lawry's first jazz album in 15 years embraces the music's spirit like few others. Appropriately titled "Acrobats",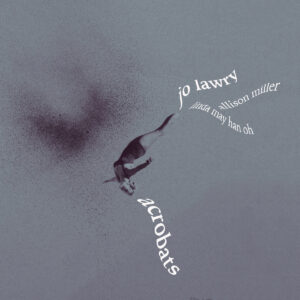 this album finds Lawry singing without a chordal instrument—literally the safety net—opting for the sole accompaniment of bass and drums. Granted, her chosen bandmates are two of the best musicians on the jazz scene today: Linda May Han Oh and Allison Miller, and they give the gifted vocalist great support. The opening of the third track finds Oh playing a heavily modified harmonic sequence to Vernon Duke's "Taking a Chance on Love". Wisely, Lawry follows the lead with an angular approach to the melody and an astonishing collection of thematic variations. There aren't many vocalists that would take such risks, even with a chordal instrument, but Lawry makes it sound like a natural approach. The following track, "You're the Top", is even more daring, with Lawry singing to the sole accompaniment of Miller's brushes on snare! Not only does Lawry sing with complete confidence and accurate pitch, she throws in a few key changes just for fun—and precisely lands every one. Lawry is also an accomplished scat singer, and on both the title track and the standard "Deed I Do", she responds to the progressive backdrops with unpredictable improvised lines. On a vocal/bass duo on "It Takes Two to Tango", Lawry takes the same slinky tempo which Lester Young used on a rare (and dirty) vocal version from the early 50s. Lawry omits the bawdy lyrics and maintains the intended mood, while Oh proves to be a fine and respectful dance partner. Ironically, the most straight-forward track is the cover of a Lennie Tristano original, "317 E 32nd". It gives the listener a break from the envelope-pushing material and lets all three players improvise in a traditional atmosphere. However, Lowry's scat is far more advanced than most of the vocal improvisations heard on your local bandstand, and her scat solo on Tristano's difficult tune is simply flawless. Apparently, Lawry is a fan of Frank Loesser's songs, since she opens and closes the album with his music. The rare song "Travelling Light" acts as an introduction to the group, while a loose medley of two "Guys and Dolls" tunes, "My Kind of Day" and "I've Never Been in Love Before" closes the official program, and the bonus track (from a soundcheck) is Loesser's best-known song, "If I Were a Bell". Lawry's unusual approaches to Loesser's music might be the basis for another album. In addition to what this album should do to boost Lawry's presence on the jazz scene, an album of Loesser's music would add to his legacy and encourage more interpretations of his music.
GRETCHEN PARLATO/LIONEL LOUEKE: "LEAN IN" (Edition 1216)
Our dedicated readers know that the very first concert reviewed for JHO was a performance at the Wichita Jazz Festival by vocalist Gretchen Parlato and guitarist Lionel Loueke. That concert was discussed in the profile of Parlato which appeared in the first issue of this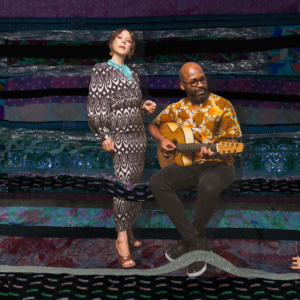 site 12 years ago. While there are a few recordings of the duo from their early years together, it is only now—with both artists recording for the same label—that their long-awaited duo album has come to fruition. However, "Lean In" is not a nostalgic look backward; indeed, it updates and expands the range of the duo to the present. "Nonvignon", which was the very first song that Loueke taught to Parlato is here in a striking new version that adds an important contrapuntal line. Parlato's husband, Mark Guiliana, is a creative force in his own right, and Parlato edited a tape of Guiliana and Loueke jamming with bassist Burniss Travis, and created a series of three interludes that link the major songs on the album. One of those songs, "If I Knew" is an intensely grooving original comparing the decisions made on the spot versus those seen with 20/20 hindsight. It includes vocal cameos by Loueke's daughter, Lisa, and Parlato and Guiliana's son, Marley, who add a message which seems to contradict the main lyric theme. The title track is also a collaboration between Parlato, Loueke, and Guiliana. Parlato wrote her four-chorus tune based on a series of Giuliana's digital drum loops. Loueke then added his solos and vocal to the recording. The words reflect Parlato's frustrations concerning the COVID lockdown and a health condition that temporarily caused problems with her sight. The album also includes covers of Klymaxx's "I Miss You" and The Foo Fighters' "Walking After You" which, true to form, are transformed from their pop/rock origins into progressive jazz. Forced to pick a favorite from this collection of riches, I must pick Parlato's nuanced rendition of Carlos Pingarilho's "Astronauta", a lovely Portuguese song famously covered by one of Parlato's major influences, João Gilberto. Loueke's deeply moaning guitar overdubs add to the lonely atmosphere. The album includes a considerable amount of overdubbing and looping, and while Loueke regularly astounds audiences with the numerous sounds he can produce from his guitar in a live performance, it will be interesting to hear how these pieces (and other favorites from both player's repertoires) will be transformed for their upcoming concert tour. Chances are that it will be a considerably different experience than this exquisite studio album.